I love fresh pineapple. It's sweet, it's tart, it's juicy, and oh so refreshing. I'll eat so much of it in one sitting that the inside of my mouth hurts from all the acidity. I don't care, it's worth the pain. So for my first homemade sorbet ever, I naturally chose Pineapple Sorbet. I had fresh pineapple already and you just need water and sugar for the rest. Pretty simple for a frozen treat!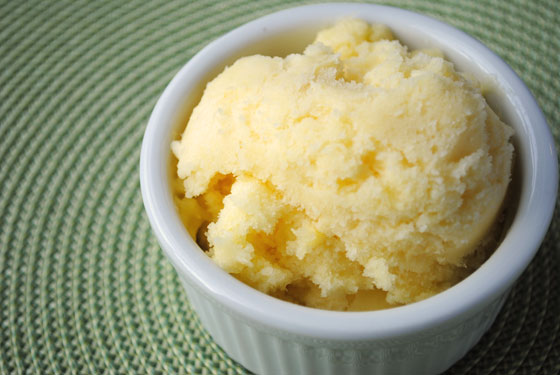 So, how's it taste?
It tasted awesome. Just like fresh pineapple with a touch more sweetness. I only used 7 tablespoons of sugar because I felt 8 might be way too much. I'm glad I did. Seven was perfect for my taste. I wanted to be able to still taste the tartness. You can always add more sugar, but can't take it away! As much as I loved the taste, this sorbet was a pain to scoop (well, a pretty scoop). It felt like the right texture when I was eating it, but it was very crumbly. I could barely get it to form a scoop that's picture-worthy.
Remember the Toasted Coconut Ice Cream? I swirled this Pineapple Sorbet into it and felt like I was instantly on the beach! It was incredible! To swirl, simply alternate scoops of each flavor into a new container. As if the flavor combo wasn't enough, stay tuned because I take it one step further and turn it into a sundae!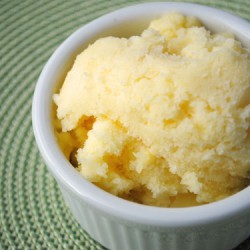 Pineapple Sorbet
Ingredients:
1/2 fresh pineapple, peeled and cored (2 cups puree)
8 to 10 tbsp. sugar (I used 7 tbsp.)
1/2 cup water
Directions:
1. Cut the pineapple into chunks and puree in a blender with 8 tablespoons sugar (I started with 7 tbsp. and that was enough) and the water until smooth. Taste, then add up to 2 tablespoon additional sugar, if desired.
2. Chill the mixture thoroughly, then freeze it in your ice cream maker according to the manufacturer's instructions.