Oh, hi! (waves) Yep, I know it's January and we're all thinking about eating healthier, but I want to talk about cookies! As most of you know, my mom and I bake several batches of cookie each year known as Cookie Baking Day. It's a super fun tradition and this year we got fancy with matching aprons and Christmas pins. We're adorkable. 🤓 So, enjoy your celery sticks, but bookmark these Eggnog Cookie Logs for next year. I'm not a huge fan of drinking eggnog, but anything flavored eggnog is fair game. We first made these cookies years ago, long before I had a blog, and they were the one cookie for which I had recipe requests.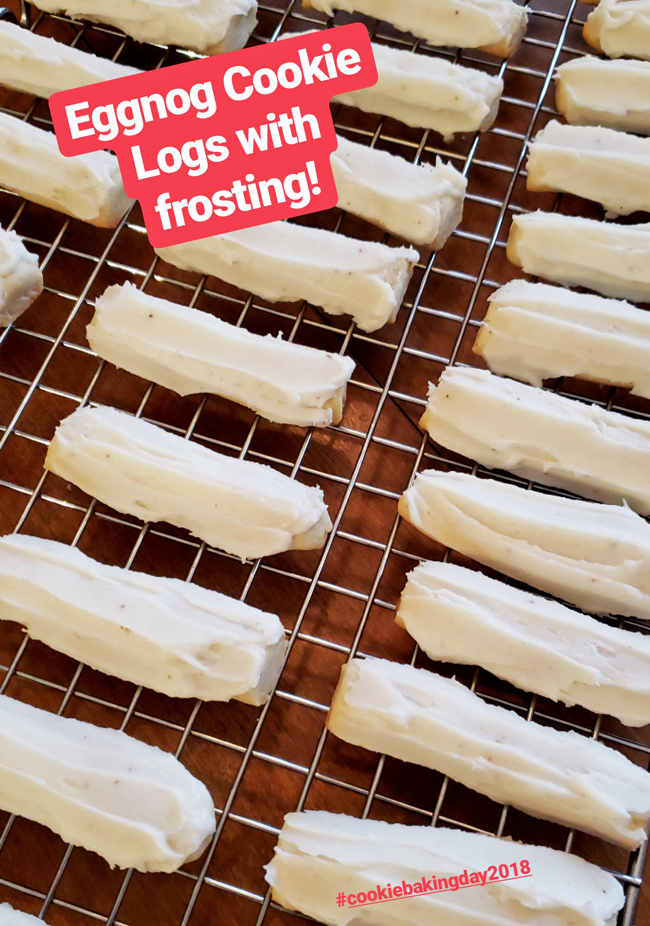 They can be a bit tedious to make since you have to roll out the dough, but once you get going, it's not such a big deal. The cookies are barely sweet, which I love because that makes the frosting perfectly suited for them. They taste great without it, but that bump of sweet frosting really gives it a nice flavor. Plus it's double nutmeg with some in the cookie and some sprinkled on top. If you didn't want to bother with the log shape, you could definitely use a cookie scoop and bake them in rounds. Perfect for the holidays with a big cup of cocoa!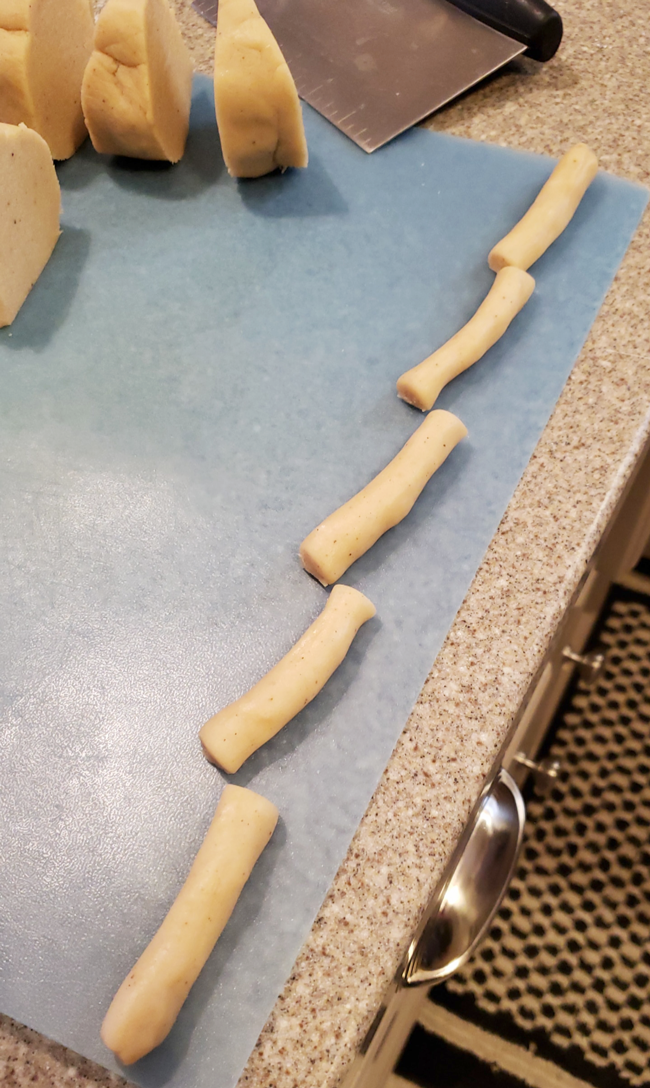 Other goodies from Cookie Baking Day 2018:
Cream Cheese Spritz
Mint Chocolate Chip Cookies
Walnut-Topped Ginger Drops (stay tuned!)
Double Chocolate Coconut Cookies (stay tuned!)
Chocolate Guinness Cookies (stay tuned!)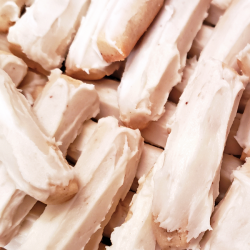 Yield: 5 dozen cookies
Total Time: 1 hr 35 min
Eggnog Cookie Logs
Ingredients:
Cookies
3/4 cup sugar
1 cup butter, softened
2 tsp vanilla
2 tsp rum extract
1 egg
3 cups all purpose flour
1 tsp nutmeg
Frosting
2 cups powdered sugar
3 tbsp butter, softened
3/4 tsp rum extract
1/4 tsp vanilla
2 to 3 tbsp half-and-half or milk
nutmeg
Directions:
1 - In large bowl or stand mixer, combine wet ingredients: sugar, butter, vanilla, rum extract, and egg; beat until light and fluffy.
2 - In another bowl, add flour and nutmeg; mix well. Add flour mixture to wet ingredients; mix well. Cover dough with plastic wrap; refrigerate 45 minutes for easier handling.
3 - Heat oven to 350F. Divide dough into 12 pieces. On floured surface, shape each piece of dough into a long rope, 1/2 inch in diameter and about 15 inches long. Cut into 3-inch lengths; place on ungreased cookie sheets.
4 - Bake for 12 to 15 minutes or until edges are light golden brown. Immediately remove from cookie sheets; place on wire racks. Cool completely.
5 - In small bowl, combine all frosting ingredients except nutmeg, adding enough half-and-half for desired spreading consistency. Spread on top and sides of cookies. Sprinkle lightly with nutmeg. Let stand until frosting is set before storing.