My mom and I have been baking these Cream Cheese Spritz Cookies for many years. They always make it on the cookie list, even though I'm a big fan of trying new varieties. There's just something about these cookies that I love. I think I've told you before that I hate sugar cookies, so you would think I wouldn't go near these. But they have cream cheese. That little bit of cream cheese in the dough changes everything.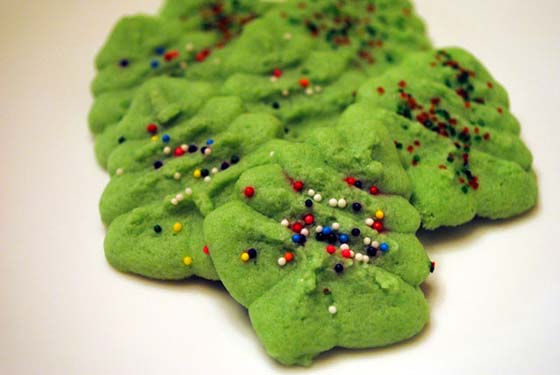 So, how's it taste?
I love these cookies. Bite-sized morsels of pure deliciousness. The cream cheese really does make all the difference. It's similar to a sugar cookie, but with the flavor pumped way up. The texture is slightly soft, yet slightly crisp. The fun part is how versatile these cookies are. You make any shape with a cookie press. We do the trees for Christmas and there's also one that looks like a wreath. You could use red food coloring and make a batch for Valentine's Day. They really are fun to make. I let my mom do the cookie pressing and I like to decorate. It's a tradition we save these for baking last. Probably because I tend to cover the kitchen in sprinkles by the time I'm done!
Other goodies from Cookie Baking Day 2010:
Almond Macaroons
Buttery Pecan Rounds
Crunchy Muncher Cookies
Striped Icebox Cookies
Mint Chocolate Chip Cookies
Chunky Peanut, Chocolate, and Cinnamon Cookies
Chewy Chocolate Gingerbread Cookies
Apricot Sour Cream Tea Cookies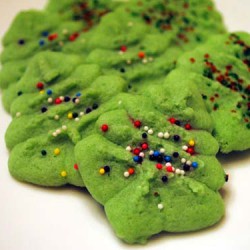 Cream Cheese Spritz Cookies
Adapted from Wilton
makes 4 dozen
Ingredients:
1 cup butter, softened
3 oz. cream cheese, softened
1 cup sugar
1 egg yolk
1 tsp. vanilla extract
2 1/2 cups all purpose flour
1/2 tsp. salt
food coloring, if desired
Directions:
1. Preheat oven to 350 degrees.
2. Cream butter and cheese. Add sugar and mix well until light and fluffy. Add egg yolk and vanilla. Mix well. Gradually add flour and salt and mix well. Add food coloring if desired.
3. Place dough in cookie press, press onto cool ungreased cookie sheet. Decorate if desired.
4. Bake 10-12 minutes or until lightly browned. Store in air tight container at room temperature for several weeks or freeze for up to 2 months.