I almost feel like I'm giving away a family secret sharing these Oatmeal Chocolate Chip Cookies. For as long as I can remember, my mom's been baking these and they are pretty much the best oatmeal cookie out there. The recipe isn't a secret as back in the day it was printed on the Quaker Oats can of oats. The difference is the recipe has changed over the years and just isn't the same as the original. Lucky for you, I'm sharing the original. You can sub raisins for the chocolate chips, add nuts, or leave out the extras altogether. Nothing beats this chewy oatmeal cookie recipe.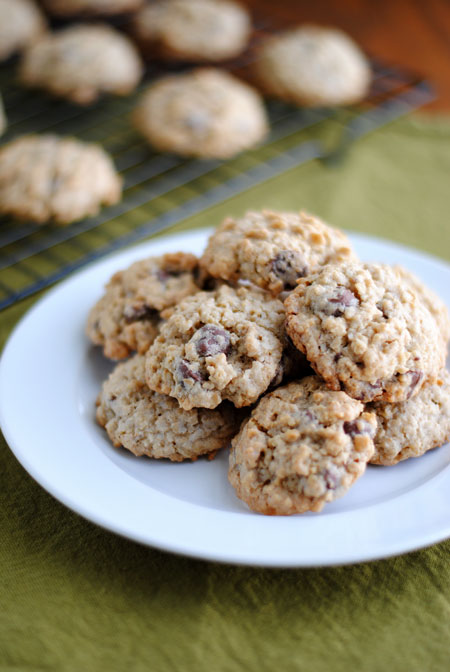 So, how's it taste?
Clearly I think these are the oatmeal cookies to end all oatmeal cookies. They are slightly crisp on the outside and chewy on the inside. Just how I like my cookies. The secret to making them taste amazing is that there's no butter. Instead, shortening is used. Now this may gross some of you out and some of you may be tempted to sub butter for the shortening, but don't. The shortening is what makes these magical.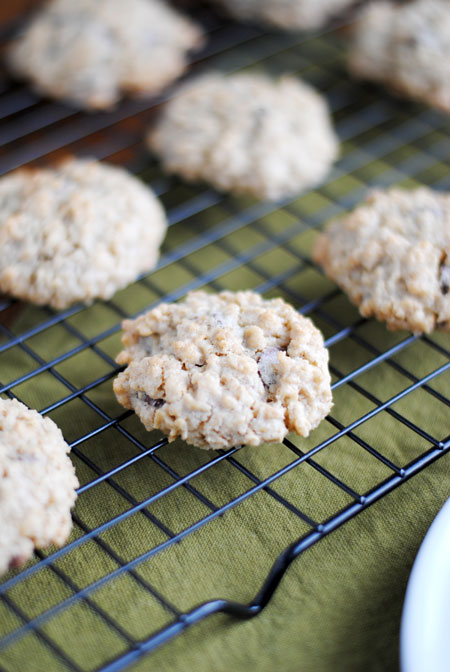 You can actually taste the oatmeal and chocolate and vanilla, instead of overly rich butter. Now don't get me wrong, butter has its place in cookies, but not these. If you truly appreciate an oatmeal cookie, you will love how not using butter really lets the oatmeal shine. The chocolate chips are just a bonus! These are really good with butterscotch chips, too.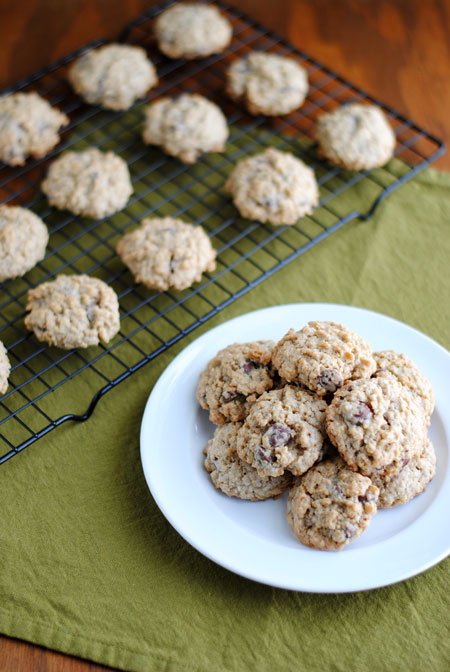 These cookies freeze really well should you need to stop yourself from eating an entire batch in one sitting. Grab a glass of milk because a few of these fresh out of the oven will change your life. I hope you enjoy these as much as we do!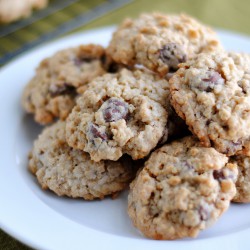 Yield: about 5 dozen
Prep Time: 20 min
Cook Time: 14 min
Oatmeal Chocolate Chip Cookies
Ingredients:
3/4 cup firmly packed brown sugar
3/4 cup vegetable shortening
1/2 cup granulated sugar
1 egg
1/4 cup water
1 tsp. vanilla
3 cups quick-cooking oats
1 cup all-purpose flour
1 tsp. salt (optional)
1/2 tsp. baking soda
1 cup semisweet chocolate chips
Directions:
1. Heat oven to 375F.
2. In large bowl, beat brown sugar, shortening, and granulated sugar on medium speed of electric mixer until creamy. Add egg, water, and vanilla; beat well.
3. In a large bowl, combine oats, flour, salt, and baking soda; mix well. Add to wet ingredients in mixer and mix well. Fold in chocolate chips.
4. Drop dough by rounded tablespoonfuls onto ungreased cookie sheets. Bake 14 to 17 minutes or until edges are golden brown. Remove to wire rack. Cool completely. Store tightly covered.