Cookie Baking Day 2012 was in the books a few weeks ago and boy did we bake up some goodies. Usually there's one cookie that we don't love, but this year they were all spectacular. These Cranberry Orange Cookies were a nice surprise at how well they turned out. They were actually best the next day. I was a little apprehensive with the spices, but we pressed on with the recipe and it didn't disappoint.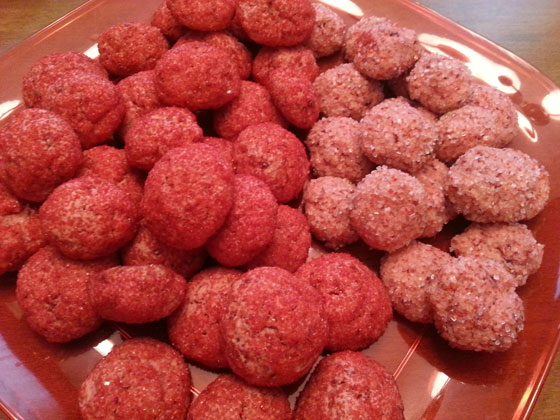 So, how's it taste?
For such tiny bites, they were bursting with cranberry and orange flavor. They were pretty good fresh from the oven, but they were great the next day. The cranberry and orange flavors got stronger and I liked them even more. We made some with red sugar and the lighter ones in the picture above are made with coarse white sugar. The finer, red sugar worked best. The cookies stayed soft and the hint of allspice and cloves was perfect. I was hesitant about adding the spices because I wanted the fruit to shine, but I'm glad we did. The spice doesn't overpower at all, but brings everything together.
Other goodies from Cookie Baking Day 2012:
Cream Cheese Spritz
Snickersnaps
Butterscotch Spice
Mint Chocolate Pudding
Mexican Wedding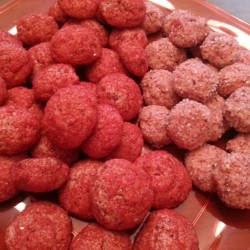 Cranberry Orange Cookies
Ingredients:
3/4 cup dried cranberries
3/4 cup granulated sugar
2 cups all-purpose flour
1 1/2 tsp. baking powder
1 1/2 tsp. finely grated orange zest
1/2 tsp. salt
1/4 tsp. ground allspice
Pinch of ground cloves
1 stick cold unsalted butter, cut into small pieces
1/4 cup cranberry juice cocktail
1/2 tsp. red food coloring
1/2 tsp. vanilla extract
1 large egg, lightly beaten
Red sanding sugar, for rolling
Directions:
1. Pulse the dried cranberries and granulated sugar in a food processor until the cranberries are finely ground and the sugar turns red. Add the flour, baking powder, orange zest, salt, allspice, and cloves and pulse to combine. Add the butter and pulse until the mixture looks like coarse meal.
2. Combine the cranberry juice, food coloring, and vanilla in a small bowl and add to the food processor along with the egg; pulse until a dough forms. Transfer the dough to a bowl, cover with plastic wrap and refrigerate until firm, about 1 hour.
3. Position racks in the upper and lower thirds of the oven and preheat to 350 degrees F. Line 2 baking sheets with parchment paper. Roll heaping teaspoonfuls of dough into balls, then roll the balls in sanding sugar and arrange about 1 1/2 inches apart on the prepared baking sheets. Bake, switching the position of the pans halfway through, until the cookies are just set on top and golden on the bottom, 18 to 24 minutes. Let cool 5 minutes on the baking sheets, then transfer to racks to cool completely.