Happy New Year! I hope you are enjoying 2011 so far. I know I am because the first thing I ate was one of these Pumpkin Cinnamon Rolls with Cream Cheese Icing for breakfast on New Year's Day! These rolls are so decadent, you'll never want the kind that comes in a can again. Bursting with spices and pumpkin and dripping with ooey, gooey cream cheese icing. I couldn't think of a better breakfast to start my new year.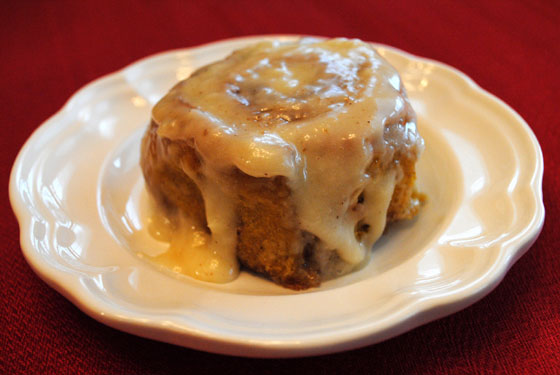 So, how's it taste?
Amazingly good. I mean come on, they're cinnamon rolls. You know they are going to be delicious, but these cinnamon rolls take it to a whole new level. Adding the pumpkin and spices like ginger, nutmeg, and cloves really take a regular cinnamon roll up a notch or two. Topped with cream cheese icing, it should really be illegal to eat one of these for breakfast! I just loved this version and it got rave reviews from the lucky folks that got to try them. Even from someone who swears they don't care for pumpkin.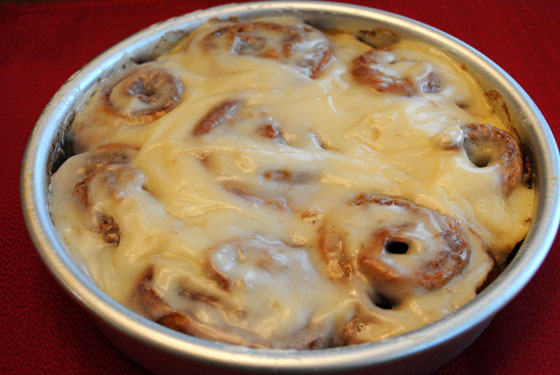 The only thing I'd alter from this recipe is the amount of icing. I know it sounds crazy, but it really has too much. As you can see from the pic above, the rolls in the pan were just swimming in icing and I had a lot leftover in the mixing bowl. So next time I make these, I'll be halving the icing recipe. These are a must for a special occasion breakfast. They are a bit labor intensive, so follow the directions for night before prep. They also freeze beautifully!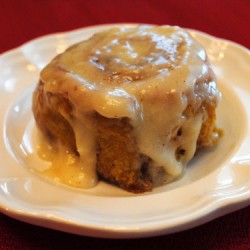 Pumpkin Cinnamon Rolls with Cream Cheese Icing
Ingredients:
Dough:
1/4 cup warm water (not hot, about 110 degrees)
1 package (2 1/4 tsp.) active dry yeast
1/3 cup warm milk
1 large egg, beaten
3/4 cup pumpkin puree, either fresh or canned
1 tbsp. melted butter
2 cups (approximately) all-purpose flour
1 1 /4 cup whole wheat pastry flour
1/2 cup brown sugar
1 tsp. salt
3/4 tsp. cinnamon
1/4 tsp. ground ginger
1/8 tsp. ground nutmeg
1/8 tsp. ground cloves
Filling:
1 stick butter, softened
2/3 cup white sugar
1/4 cup brown sugar
2 tsp. cinnamon
1 tsp. ground ginger
1/4 tsp. ground nutmeg
1/4 tsp. ground cloves
Cream Cheese Icing*:
4 oz. cream cheese
1 stick (4 oz.) butter, softened
1 tsp. vanilla extract
3/4 tsp. lemon juice
2-3 cups powdered sugar (I used 2 cups)
*Note: This recipe makes a lot of icing. I'd suggest halving the recipe if you don't want your rolls swimming in icing. You'll have plenty to use for all 16 rolls even by halving it.
Directions:
1. In a large bowl, stir yeast into water to soften. Let rest for 5 minutes before stirring. Add milk, eggs, pumpkin, butter, 1 1/4 cups whole wheat flour, brown sugar, salt, cinnamon, ginger and cardamom to yeast mixture. Beat vigorously for 2 minutes.
2. Gradually add remaining flour (all purpose), a little at a time, until you have a dough stiff enough to knead. Start with about 1 1/2 cups and increase if necessary. (I used only 1 cup, but probably could have just used 3/4 cup.) Turn dough out onto a floured surface. Knead, adding flour as necessary, until you have a smooth, elastic dough.
3. Put dough into an oiled bowl. Turn once to coat entire ball of dough with oil. Cover with a towel and let rise until doubled, about 1 hour.
4. Combine the white sugar, brown sugar, cinnamon, allspice, ginger, nutmeg and cloves in a small bowl with the softened butter, set aside. Transfer the risen dough to a lightly greased work surface, and pat or roll it into a 16" x 12" rectangle. Spread softened butter/sugar mixture over dough.
5. Roll the dough into a log the long way; it'll stretch to about 20" long as you roll. Using a very sharp knife, slice the log into 16 slices. In order to cut down on drag, it helps to rinse the blade in hot water, and wipe it off, between slices. Place slices in a greased 9x13 inch baking pan (or in two 8 or 9 inch round cake or pie pans). Cover with a towel and let rise until almost doubled, about 45 minutes.
6. Bake in a preheated 375°F oven. Bake the rolls till they're brown around the edges and beginning to turn golden brown across the center, about 20-30 minutes.
7. While rolls bake, prepare the cream cheese icing. Add the cream cheese, butter, vanilla, and lemon juice to a small food processor. Blend until smooth and combined. Add the powdered sugar 1/2 cup at a time, blending in between, until well mixed and desired consistency is reached. (I used 2 cups powdered sugar)
8. Frost warm rolls with the cream cheese icing and serve immediately.
For night before prep: Prepare the rolls up to the point where you roll and place in the pan. Then, cover in plastic wrap and refrigerate overnight. In the morning, remove the pan from the fridge and proceed with the instructions where you left off. Rising time may be slightly longer than noted in the recipe due to the dough being cold vs room temp.