Tart lemon is such an appealing flavor for me. I like my lemon more on the sour side than the sweet side. That's why I love lemon icebox pie. It's creamy, tart, and really refreshing served chilled. I wanted something different and thought ginger would be the perfect compliment. I made this Gingered Lemon Icebox Pie three times before I got the flavor just right. Stuck with three pies…it's such a hard life!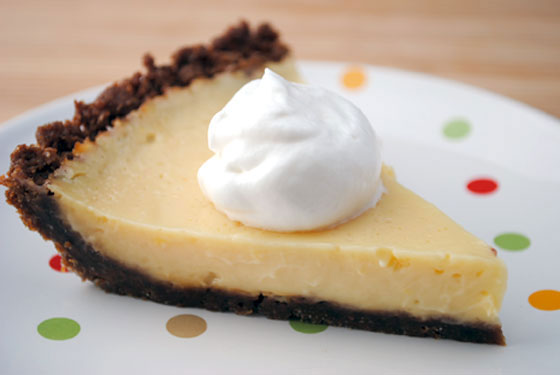 So, how's it taste?
It's perfect. Exactly what I want in a lemon pie. It's super creamy and the tart lemon is the prominent flavor. The ginger comes through as a subtle spicy aftertaste and ever so slightly cuts down on the tartness. The gingersnap crust was a nice change from the usual graham cracker crust. I added ground ginger and crystallized ginger to pump up the flavor. There's also minced fresh ginger in the filling. I strained it before finishing so the filling would remain that classic smooth consistency. If you prefer a regular lemon icebox pie, substitute graham crackers for the gingersnaps and leave out the ginger everywhere else in the recipe. This would be a wonderful dessert for summer since it's so refreshing and easy to make.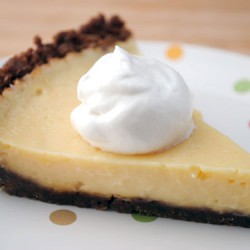 Gingered Lemon Icebox Pie
So, How's It Taste original recipe
makes 8 servings
Ingredients:
Crust
1 1/2 cups Trader Joe's Triple Ginger cookie crumbs (or gingersnap cookie crumbs)
1 tbsp. crystallized ginger
3 tbsp. sugar
1/2 tsp. ground ginger
6 tbsp. melted butter
Filling
1/2 cup fresh lemon juice
2-inch piece fresh ginger, minced
3 egg yolks
1 (14 oz.) can sweetened condensed milk
zest from 1 lemon
Directions:
1. For the crust, preheat oven to 350°F. Blend the cookie crumbs and the crystallized ginger in a food processor until well blended and no chunks of the ginger remain. Transfer crumb mixture to a medium bowl and add the sugar and ground ginger; mix well. Add the melted butter and combine. Press into the bottom and up sides of a 9-inch pie pan. Bake 10 minutes. Let cool.
2. For the filling, in a small saucepan add the lemon juice and minced ginger. Bring to a boil over medium heat. Remove from heat and let steep for 10 minutes.
3. Meanwhile, add the egg yolks to a medium bowl and whisk. Add the sweetened condensed milk and the lemon zest. Strain the ginger lemon juice mixture over the same bowl, pressing on the ginger to release its flavor. Whisk all ingredients until well combined.
4. Pour lemon mixture into baked pie crust. Bake at 325°F for 30-35 minutes, until filling is set. Cool at room temperature for 1 hour. Place pie in refrigerator and let set for 3 hours. Serve chilled with a dollop of whipped cream, if desired.