Happy 4th of July! I'm so excited for fireworks tonight. I just love them. Every year I spend the 4th with my mom and cousin. We grill out and then park ourselves in the front yard to watch the neighbors set off fireworks with our iPod blaring a special-made playlist and booze in hand. I look forward to planning the menu each year. I thought ice cream sandwiches would be a classic dessert with sprinkles giving a festive touch. I made Oatmeal Ice Cream Sandwich Cookies and sandwiched them around date rum pecan ice cream.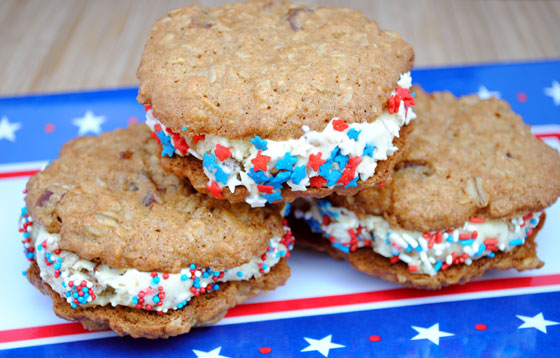 So, how's it taste?
Aren't these the cutest with the patriotic sprinkles?! The cookies were supposed to stay chewy, but mine turned out crispy. I adjusted the cooking time, so maybe that was the reason. There's no way any cookie bakes for 20 minutes. I'm hoping after the sandwiches sit in the freezer for a bit, that they will soften. Even with the somewhat crispy cookies, these ice cream sandwiches are fantastic. I wanted something different from your basic chocolate cookie/vanilla ice cream combo. The oatmeal cookies aren't very sweet, which is a much needed contrast from the ice cream. The date rum pecan ice cream is very sweet and such a good match for the oatmeal cookie. I used dates in my cookie instead of raisins because I had them leftover from the ice cream. This is the perfect ending to a 4th of July meal.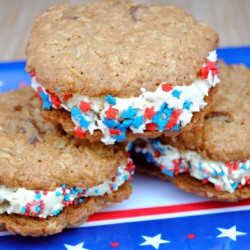 Oatmeal Ice Cream Sandwich Cookies
Ingredients:
2/3 cup all-purpose flour
1/4 cup granulated sugar
6 tbsp. packed light brown sugar
1/2 tsp. baking soda
3/4 tsp. ground cinnamon
1/4 tsp. salt
1 1/2 cups rolled oats (not instant)
1/2 cup raisins or dates
1/2 cup vegetable oil
3 tbsp. whole milk
1 large egg
Directions:
1. Preheat oven to 350F. Line 3 baking sheets with parchment paper.
2. In a large bowl, whisk the flour, both sugars, baking soda, cinnamon, and salt. Stir in the oats and raisins/dates.
3. Add the oil, milk, and egg. Stir until combined.
4. Drop a heaping tablespoon of the batter on the baking sheet for each cookie. These are large cookies, so about 6 should fit on a sheet. Spread each spoonful of batter with your hands or a spoon into a circle, about 3 inches wide.
5. Bake the cookies for 10-12 minutes, rotating midway during baking, until edges start to become golden brown.
6. Let cookies completely cool before sandwiching with ice cream. Roll edges in decorative sprinkles if you like. Wrap sandwiches in plastic wrap and store in the freezer.