Over the past few weeks roughly 22,000 cookies were sent around the world as part of the first Great Food Blogger Cookie Swap! How cool is that? Thanks to Lindsay from Love & Olive Oil and Julie from The Little Kitchen, over 600 food bloggers were matched together to share in cookie goodness. How it works: Sign up, make 3 dozen of the same cookies, send 1 dozen each to 3 of your matches. In return, you get 1 dozen cookies from each of the 3 bloggers that got your name. Six new blogging friends!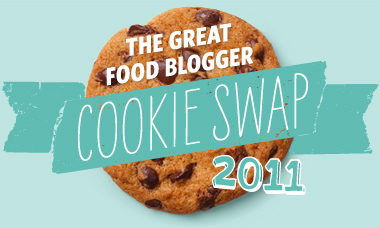 For my cookies, I chose these Orange Pecan Gems. They weren't my first choice. I poured over several cookbooks and eventually chose cranberry macadamia white chocolate jumbles that had coffee as an ingredient. They turned out horrible fresh from the oven. So I quickly decided on another cookie, the Orange Pecan Gems. I mean I'm mailing cookies to fellow food bloggers, I can't send any ol' cookie. What's interesting is after a few days, the nasty coffee taste disappeared from the first cookies and they ended up tasting pretty fantastic. Who knew? But I never would have discovered the Orange Pecan Gems, so it's a win win!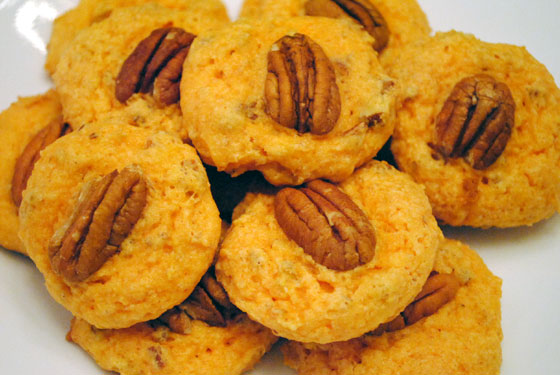 So, how's it taste?
I loved these cookies from the second they were mixing in the mixer. The sweet smell of orange is intoxicating. They couldn't be easier to make since the base is a cake mix. I recommend Duncan Hines brand because their mixes taste better than the others in my opinion. The orange and pecan go so well together. The cookie is very soft and moist. They are almost like eating little cakes. I like how the cookie is really chewy, but there's bits of crunchy pecans in the cookie and one big crunchy pecan on top. They really last, too, stored in an airtight container. I saved a few cookies so I could taste them on the day I saw my packages were delivered and they were just as good as the first day I baked them. My mom and I enjoyed these cookies so much, they made the list for our Annual Cookie Baking Day! (See the bottom of this post for a list of the other cookies we baked and stay tuned this week for their recipes!)
My packages went all the way to Connecticut for Karen at Small Kitchen Big Taste, to Utah for Holly at PheMOMenon.com, and to Oklahoma for Kathryne at Cookie and Kate. I only heard from Karen, and she and her boyfriend really enjoyed them! Hope that doesn't mean the other two thought they were crap, lol!
In return, I received three awesome batches of cookies! My first batch came from Margaret of Ma Vie En Rose. She sent Oatmeal Chocolate Chip Magic Cookies. I devoured these. When I ate one, I'd have to have another. They were the best of both worlds with chocolate chips and raisins in an oatmeal cookie.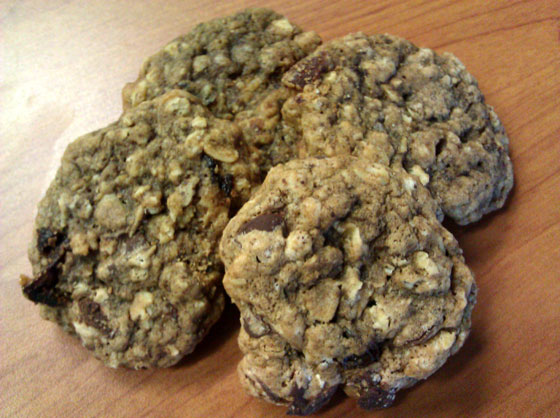 My second batch was from Karen of Soup Addict. She sent Secret Stash Cookies. A soft vanilla cookie and the bottoms were iced with a dark chocolate ganache. Yes, the bottom was iced…more room for the ganache! Completely addictive. I love soft cookies and the delicate vanilla matched perfectly with the dark chocolate. It was almost like it was fudge! I was sad when I ate the last of these.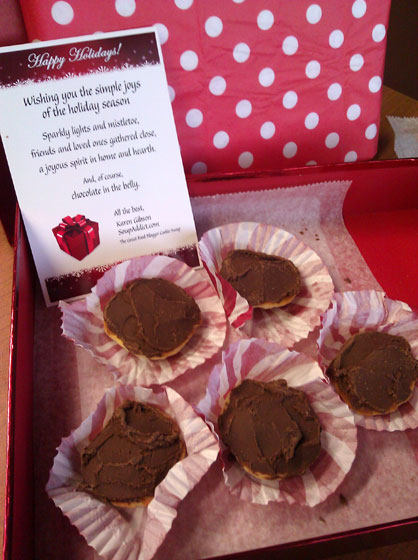 My third batch was from Madeline of Munching in the Mitten. She sent Mexican Hot Chocolate Cookies. These cookies reminded me of my Mexcian Brownies. Fragrant with cinnamon and chocolate…a wonderful combination. And after you eat one, the subtle heat of cayenne sneaks up on you. It's not hot, just a nice warmth on your tongue.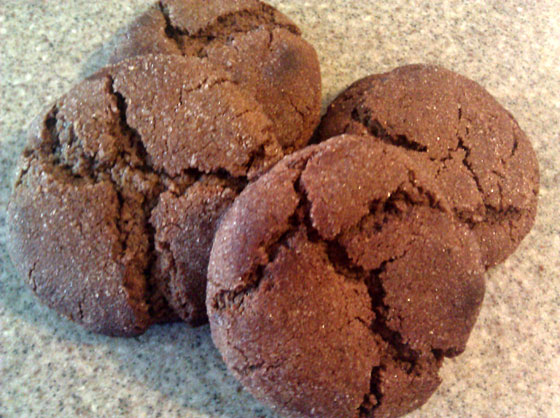 Want to be part of the 2012 Food Blogger Cookie Swap? Subscribe to receive notification when signups begin for next year!
Other goodies from Cookie Baking Day 2011:
Cream Cheese Spritz Cookies
Iced Lemon Pistachio
Cranberry White Chip Oatmeal Cookies
Chocolate Malt Cookies
Triple Chocolate Oreo Chunk Cookies
Banana Walnut Chocolate Chunk Cookies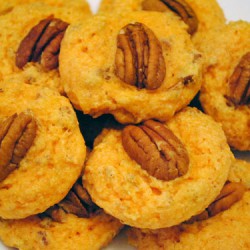 Orange Pecan Gems
Ingredients:
1 box Duncan Hines® Moist Deluxe® Orange Supreme Cake Mix
1 (8 oz.) container vanilla low fat yogurt
1 large egg
2 tbsp. butter
1 cup finely chopped pecans
1 cup pecan halves
Directions:
1. Preheat oven to 350°F. Grease cookie sheets or cover cookie sheets with parchment paper.
2. Combine cake mix, yogurt, egg, butter, and chopped pecans in mixer bowl. Beat at low speed with electric mixer until blended. Drop by rounded teaspoonfuls 2-inches apart onto prepared cookie sheets. Press pecan half into center of each cookie.
3. Bake at 350°F for 11 to 13 minutes, or until golden brown.* Cool 1 minute on sheets. Remove to cooling racks. Cool completely. Store in airtight container. Cookies will stay really soft and moist.
*It's hard to tell when these cookies get golden brown since they're orange. Bake for the lowest amount of time first and check cookies as you go. A good way to tell is when they aren't shiny like the dough anymore.