Let me present you with what I call a merging of two obsessions. You may remember way back in the day when I merged pecan pie with cheesecake. I've done it again, but this time it's Chocolate Silk Pecan Pie. Indecisive about which pie to make? Make 'em both! Pecan pie on the bottom and chocolate silk pie on the top!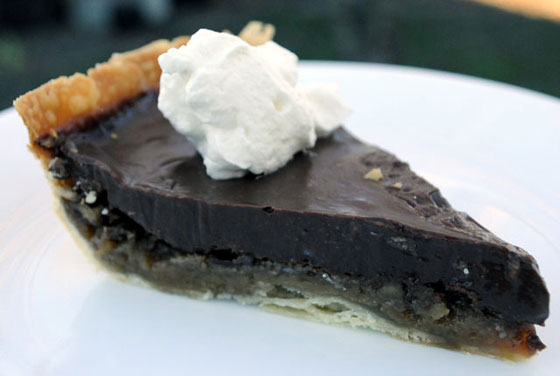 So, how's it taste?
Talk about rich. This pie is decadent. Sweet and a bit salty pecan pie is on the bottom. You can leave out the small amount of salt, but I recommend leaving it in if you're a fan of sweet 'n salty like me. Then silky, rich, smooth chocolate on the top. Mmm! It's an indecisive person's dream! The only thing odd is that the texture gets to me a bit. The top is so velvety smooth and then boom, you've got coarse, crunchy pecans in the same bite. The flavor is outstanding, but I almost wanted the top to be thicker to match the thickness of the bottom. It sure didn't keep me from going back for seconds though!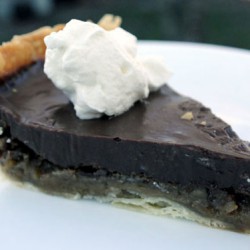 Chocolate Silk Pecan Pie
Ingredients:
1 refrigerated pie crust, softened as directed on package
1/3 cup granulated sugar
1/2 cup dark corn syrup
3 tbsp. butter, melted
1/8 tsp. salt, if desired
2 eggs
1/2 cup chopped pecans
1 cup hot milk
1/4 tsp. vanilla
1 1/3 cups semisweet chocolate chips
1 cup whipping (heavy) cream
2 tbsp. powdered sugar
1/4 tsp. vanilla
Chocolate curls, if desired
Directions:
1. Prepare pie crust as directed on package for one-crust filled pie using 9-inch pie plate. Heat oven to 350°. Beat granulated sugar, corn syrup, butter, salt and eggs in small bowl with electric mixer on medium speed 1 minute. Stir in pecans. Pour into pie crust in pie plate. Bake 35 to 45 minutes or until center of pie is puffed and golden brown. Cool 1 hour.
2. While filled crust is cooling, place hot milk, 1/4 teaspoon vanilla and the chocolate chips in blender or food processor; cover and blend on medium speed about 1 minute or until smooth. Refrigerate about 1 hour 30 minutes or until mixture is slightly thickened but not set. Gently stir; pour over cooled filling in pie crust. Refrigerate about 1 hour or until firm.
3. Beat whipping cream, powdered sugar and 1/4 teaspoon vanilla in chilled small bowl on high speed until stiff peaks form. Spoon or pipe over filling. Garnish with chocolate curls. Store in refrigerator.