Guess who's 2 today? Me! Ok, more like So, How's It Taste, but it's a celebration nevertheless! Two years, I can't believe it. I still vividly remember sitting on my couch and thinking "What's all this blog stuff about?" I instantly thought about food and how much I like to cook and eat. I think about all that's happened since I started this blog and the amazing people I've met. If there's one thing I've learned, the food blogging community is welcoming, encouraging, and always makes me feel at home. The friendships I've made are still one of the best results of this blog…and all the food I've gotten to share with you! Looking over the past year, I'm a lucky girl who eats very well!
To celebrate two years, of course I had to do it in true So, How's It Taste style with a chocolate dessert! I chose Dark Chocolate Souffles because it's a recipe I've been eyeballing for years, I've never made a souffle, and it's an indulgence I can enjoy and not feel the least bit guilty.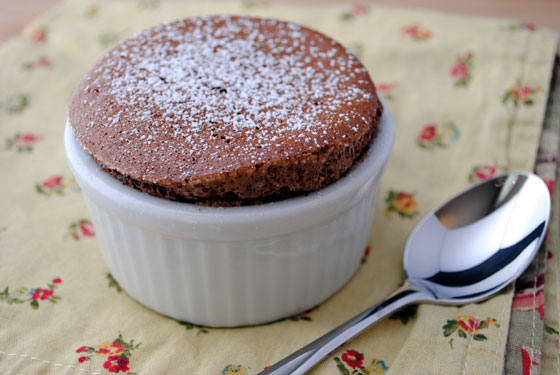 So, how's it taste?
Way, way better than I predicted! I've been pretty hardcore lately with trying to eat better and exercising, so when I chose a dessert that wouldn't blow out my calories for the day, I wasn't overly excited. Sometimes "diet" desserts can be tasteless or so stinkin' small that you get one tiny bite and that leads to eating multiple servings. I like that these souffles are made in individual portions, so there's no temptation to slice a piece a little bigger than you should. The souffle was so light and airy in texture, yet still made me feel like I was eating a big ol' piece of cake. The flavor is super rich. One serving and my sweet tooth is more than satisfied. I'm not sure I could eat more than one (ok, who am I kidding on that statement!). It's uber chocolatey and decadent. The next time I make these, I'll add the coffee powder to the chocolate mixture instead of using it to line the ramekins. I could barely taste it and feel it would be much better as an enhancement to the souffle. If you served this to guests, they'd never know it came from a diet cookbook!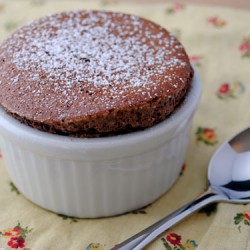 Dark Chocolate Souffles
New Dieter's Cookbook
makes 8 servings
per serving: 140 calories, 2g fat, 25g carbs, 4g protein, 0g fiber
Ingredients:
Nonstick cooking spray
2 tbsp. granulated sugar
1 tsp. instant espresso powder or instant coffee powder
3/4 cup granulated sugar, divided
1/2 cup unsweetened cocoa powder
1 tbsp. all-purpose flour
1/8 tsp. salt
1/2 cup milk
2 egg yolks
4 egg whites
1 tsp. vanilla
1/8 tsp. cream of tartar
Sifted powdered sugar, optional
Directions:
1. Lightly coat eight 4- to 6-ounce ramekins with nonstick cooking spray. In a small bowl, combine the 2 tablespoons of sugar and coffee powder. Sprinkle on the side and bottom of each ramekin. Place in a shallow baking pan; set aside.
2. In a medium saucepan stir together 1/2 cup sugar, cocoa powder, flour, and salt. Gradually stir in the milk. Cook and stir over medium heat until thick and bubbly. Reduce heat; cook and stir for one minute more. Remove from heat. Slightly beat the egg yolks. Slowly add a bit of the chocolate mixture to the yolks, stirring constantly. Add the egg mixture back into the chocolate; stir.
3. In a large mixing bowl combine egg whites, vanilla, and cream of tartar. Beat with an electric mixer on high speed until soft peaks form (tips curl). Gradually add remaining 1/4 cup sugar, beat on high speed until stiff peaks form (tips stand straight). Gently fold chocolate mixture into egg whites. Spoon into prepared ramekins.
4. Bake in a 350F oven about 25 minutes or until a toothpick inserted near the center comes out clean. Sprinkle with powdered sugar, if desired. Serve immediately.