I love smoothies. I don't know why I don't make them more often since they are so easy. Especially during these hot days of summer. Almost any combination of fruits you can think of can be turned into a delicious drink. You can even make them year round with frozen fruit. This gorgeous purple Peach Blackberry Smoothie is incredibly refreshing and bursting with peach flavor.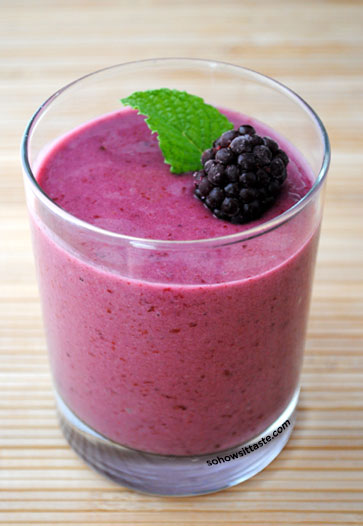 So, how's it taste?
You may think this smoothie would taste mostly like blackberry, but it's full of peach flavor. The yogurt and frozen peaches really amp up the peach and give the smoothie it's summery, sweet peach flavor. The apple juice helps it blend all together, the bananas provide thickness, and the blackberries give a bit of tartness. The blackberry tartness with the sweet peach is such a phenomenal combination. It's a delicious smoothie and only 186 calories per serving. This recipe serves two, so I usually drink one smoothie and pour the rest into popsicle molds for a smoothie pop later!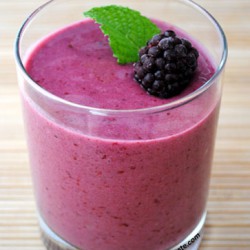 Peach Blackberry Smoothies
Ingredients:
1/2 cup low-fat peach yogurt
1/4 cup unsweetened apple juice
1 cup frozen unsweetened blackberries
1/2 cup frozen unsweetened peaches, chopped
1 frozen banana, sliced
Directions:
1. Combine the yogurt and apple juice in a blender.
2. All all the remaining ingredients. Blend until smooth.
3. Strain through a fine-meshed sieve to remove the blackberry seeds, if desired.