Magic really does happen in the kitchen! I made these bars for an outdoor event, so I needed something new, exciting, and melt-proof. Now I have no idea if these bars would have melted because they didn't stick around that long. I couldn't believe how quickly my container emptied, and that was with these bars sitting next to a batch of Mexican Brownies!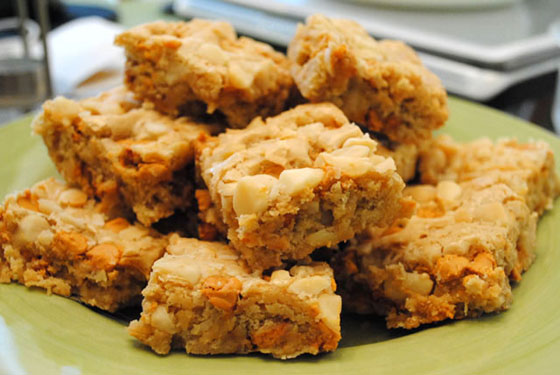 So, how's it taste?
I really like butterscotch, so these bars were a nice change from my usual chocolate desserts. They must have been universally delicious because they were gone…fast! For me, they were just ok. Don't get me wrong, they were good and I wouldn't turn one down, but I guess I prefer my desserts with more of a wow factor. The "cookie" part around the butterscotch and nuts was just too plain for me. I thought it would be really sweet with the brown sugar, but it mellowed when baking and was a nice compliment to the sweetness and intense flavor of the butterscotch. I'm pretty sure I'd make these again for a potluck though. You can't beat a dessert that's super easy to make and that much of a crowd-pleaser!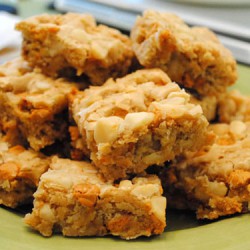 Butterscotch Macadamia Nut Bars
Ingredients:
3/4 cup butter or margarine
1 1/2 cups packed brown sugar
1 tbsp. vanilla
2 eggs
2 cups all-purpose flour
1 1/2 tsp. baking powder
1 cup coarsely chopped macadamia nuts
1 cup butterscotch morsels
Directions:
1. Heat oven to 350 degrees. Grease bottom and sides of rectangular pan, 13x9x2, with shortening. Heat butter and brown sugar in 3-quart saucepan over low heat, stirring occasionally, until butter is melted. Remove from heat.
2. Pour sugar mixture into large bowl. Add vanilla and eggs; beat with electric mixer on medium speed until blended. Add flour and baking powder; beat until well blended. Stir in 1/2 cup each of the nuts and butterscotch morsels. Pour mixture into pan. Sprinkle with remaining nuts and morsels.
3. Bake 25 to 30 minutes or until top is golden brown and center is set. Cool completely, about 1 hour.