The second cookie on our list this year was Buttery Pecan Rounds. I had read the reviews beforehand and a lot of folks complained that they fell apart, but I was determined. You say the word pecan and I'm all in. Add the word butter and it's on! These cookies definitely live up to their name.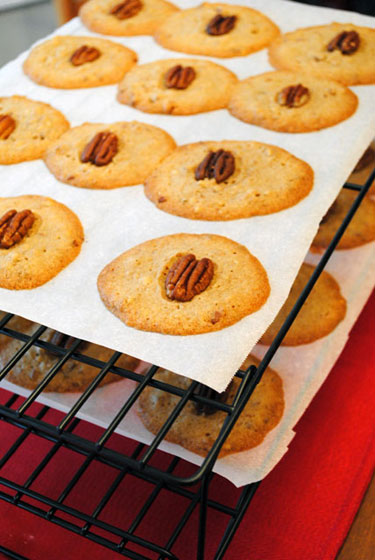 So, how's it taste?
If you like butter pecan ice cream, you'll love these cookies. They are quite delicate and super crispy, but so buttery delicious and rich. You do have to be careful getting them off the cookie sheet, but I only ended up breaking one of them. The flavor is outstanding. I think I'd like to crumble them up and put them over ice cream!
Other goodies from Cookie Baking Day 2010:
Almond Macaroons
Crunchy Muncher Cookies
Striped Icebox Cookies
Mint Chocolate Chip Cookies
Chunky Peanut, Chocolate, and Cinnamon Cookies
Chewy Chocolate Gingerbread Cookies
Cream Cheese Spritz Cookies
Apricot Sour Cream Tea Cookies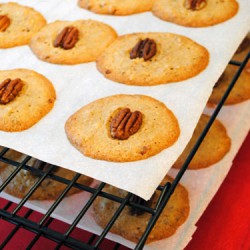 Buttery Pecan Rounds
Ingredients:
1 cup all-purpose flour
1/2 teaspoon coarse salt
1 cup (2 sticks) unsalted butter, softened
3/4 cup packed dark-brown sugar
1 large egg yolk
2/3 cup finely chopped toasted pecans (about 2 ounces)
Pecan halves, for decorating
Directions:
1. Preheat oven to 325 degrees. Sift together flour and salt into a small bowl; set aside. Put butter and sugar in the bowl of an electric mixer fitted with the paddle attachment; mix on medium speed until smooth, about 3 minutes. Mix in egg yolk until combined. Reduce speed to low. Add flour mixture; mix until combined. Mix in chopped pecans.
2. Using a 1 1/4-inch ice cream scoop, drop batter onto baking sheets lined with parchment paper, spacing about 3 inches apart. Press 1 pecan half into the center of each. Bake cookies, rotating sheets halfway through, until golden brown, 12 to 15 minutes. Let cool completely on sheets on wire racks. Cookies can be stored between layers of parchment in airtight containers at room temperature up to 2 days.