You know how I love desserts. Love, love, love them. I have an incurable sweet tooth. While I'm a huge fan of chocolate, I also have a soft spot for fruity desserts. Mostly the ones you see this time of year like cobblers, pies, crisps, etc. About a month ago, the kind folks at Lucky Leaf contacted me about their premium fruit pie fillings. Um, twist my arm! Of course I'd love to give them a try. I received their peach, cherry, and blueberry varieties. I instantly gravitated to blueberry. Tucked inside my box of goodies was a few recipe cards and I knew I'd have to make the Blueberry Pecan Crisp. Boy I'm glad I did!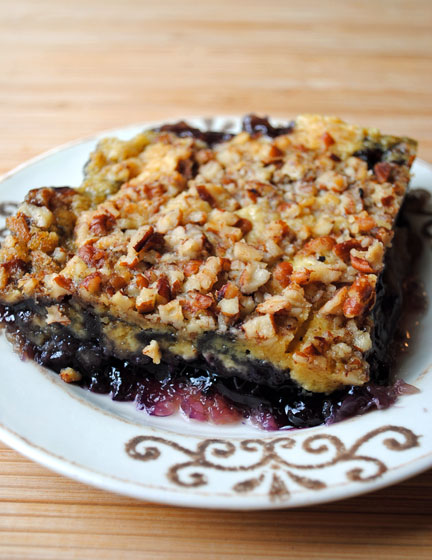 So, how's it taste?
Looking at the recipe, I honestly thought it was a little odd. It starts out with pineapple on the bottom and you don't drain it. Weird, right? Next, you top the pineapple with brown sugar and cinnamon. Cinnamon and pineapple? Ok, I'm game. On top of that goes that thick, rich blueberry filling. I may have licked my spoon two or eight times during that process. 😉 The next layer is an entire box of yellow cake mix. Sprinkle with pecans and drizzle with butter. Lots of butter. I'm no food science wiz, but I was curious how it would all come together, especially with that much dry cake mix on top. But now it started to make sense with the pineapple juice on the bottom and all that butter on the top.
Magic really does happen in the oven. As it baked, it got bubbly and golden. I have never smelled anything so delicious baking in my oven. If you're a fan of blueberry desserts, you are going to be in heaven with this one. It is incredibly addicting. Confession: I shared this with no one. Not a single person. I am in the process of eating the entire dish. It's amazing, rich, and incredibly decadent. The pineapple works to balance the sweet from the pie filling. You don't taste it separately, but it plays nicely with the rest of the flavors. I loved the cake mix on top. It forms sort of a crust and then gets softer the closer it gets to the filling. The pecans are perfect for a bit of crunch (and you know what a fan I am of pecans anyway.) Another plus is this dish is easy to make. It's super quick, but will definitely be a crowd-pleaser…should you decide to share it, unlike me. I should probably make two next time.
You can stay up-to-date on all things Lucky Leaf by following them on Facebook, Pinterest, and Twitter.
Disclosure: Lucky Leaf sent me free samples of their premium fruit pie filling, but I was not compensated for this post. All opinions expressed here are solely my own.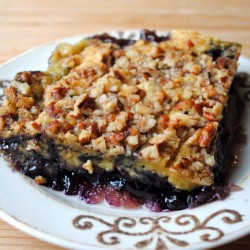 Blueberry Pecan Crisp
Ingredients:
1 (20 oz.) can unsweetened crushed pineapple, undrained
1/2 cup packed brown sugar
1 tsp. ground cinnamon
1 (21 oz.) can Lucky Leaf Premium Blueberry Pie Filling
1 (15.25 oz.) box yellow cake mix
1 cup pecan halves, chopped
1 cup butter, melted
Directions:
1. Preheat oven to 350F.
2. Pour pineapple into a greased 9x13-inch baking dish.
3. Sprinkle with brown sugar and cinnamon. Top with pie filling. Sprinkle with cake mix and pecans; drizzle with butter.
4. Bake at 350F for 40-50 minutes or until filling is bubbly and topping is golden brown. Serve warm.