It's no secret I love whiskey. I like to drink it, and I like to cook and make candy with it. Last week when I asked my cousin Jeanie to pick a birthday dessert from a list, I was secretly hoping she'd pick Whiskey Cream Cheese Brownies. Luckily, she did! The original recipe uses bourbon, which would work fine, but I almost always substitute Jack Daniel's when it calls for bourbon. Use whatever you prefer to drink. It's kind of like using wine in a recipe. Don't use one you wouldn't drink.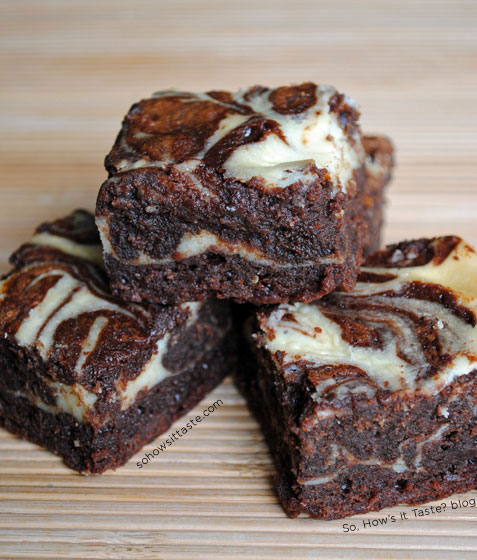 So, how's it taste?
Good grief they were good! Super rich and fudgy. I could sure smell the whiskey when these were baking, but the flavor mellows out a bit in the finished product. The chocolate is really prominent, which isn't a problem for me! I could only taste a hint of the whiskey if I got a bite that was heavy on the cream cheese part, but it's still fantastic. The cream cheese swirled into chocolate with a slight background of Jack Daniel's…I wouldn't turn down this brownie for anything. Matter of fact, it's been the reason I've gotten my butt off the couch and gone on a run for the past two evenings! These brownies are also excellent with a scoop of homemade vanilla ice cream. They'd also probably be excellent with a drizzle of hot fudge sauce over that ice cream, but I had to stop the dessert decadence somewhere, lol!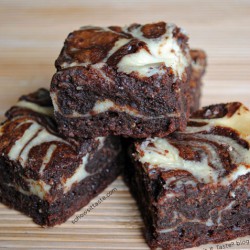 Whiskey Cream Cheese Brownies
Ingredients:
4 (1 oz.) unsweetened chocolate baking squares
3/4 cup butter
1/2 cup firmly packed light brown sugar
1 3/4 cups granulated sugar, divided
4 large eggs, divided
1 tsp. vanilla extract
1/8 tsp. salt
1 cup all-purpose flour
1 (8 oz.) package cream cheese, softened
2 tbsp. all-purpose flour
1/4 cup whiskey or bourbon (I used Jack Daniel's)
Directions:
1. Preheat oven to 350°F. Line bottom and sides of a 9-inch square pan with aluminum foil, allowing 2 to 3 inches to extend over sides; lightly grease foil.
2. Microwave chocolate squares and butter in a large microwave-safe bowl at high 1 1/2 to 2 minutes or until melted and smooth, stirring at 30-second intervals. Whisk in brown sugar and 1 1/2 cups granulated sugar. Add 3 eggs, 1 at a time, whisking just until blended after each addition. Whisk in vanilla, salt, and 1 cup flour. Spread half of batter in prepared pan.
3. Beat cream cheese at medium speed with an electric mixer until smooth; add 2 Tbsp. flour and remaining 1/4 cup granulated sugar, beating until blended. Add bourbon and remaining 1 egg, beating until blended.
4. Pour cream cheese mixture over brownie batter in pan; top with remaining brownie batter, and swirl together.
5. Bake for 40 to 45 minutes or until a toothpick inserted in center comes out with a few moist crumbs. Cool completely in pan on a wire rack (about 1 hour). Lift brownies from pan, using foil sides as handles. Gently remove foil; cut into squares.