I was searching for something different to bring to the company picnic and found this unique recipe. I love the combination of chocolate and strawberries (see Strawberry S'more Tart) and the way this cake is made, it reminds me of how cake pops are created. I was definitely curious to see how this Fudge Lover's Strawberry Truffle Cake would turn out. The time it took to make was a bit overwhelming and I was glad I had baked the cake part the night before. It's a process, but the end result is out-of-this-world good!
So, how's it taste?
I was really blown away by how good this cake ending up tasting. I was a little worried that the texture might be too strange, but it is very similar to fudge, yet still like a cake! The fun part is chopping up the cake after it's baked. Way to get your aggression out! Then the cake is mixed with heavenly ganache. (This one is not figure-friendly, folks!) The result is a fudge-like consistency, then strawberries are folded in, and the mixture is pressed into a springform pan. Once the cake is set, unmold it and frost the whole thing with more ganache. It was a chocoholic's dream! Ganache instead of icing is crazy good. The strawberries add the perfect, fruity balance to the rest of the cake.
Some notes: Make this for a crowd as the cake is only good for about a day. The fruit starts to get too mushy and develops that alcohol flavor which is most unpleasant. I recommend making the whole thing in increments. Bake the cake one day, then add the ganache and assemble the next (on the day you plan to serve), or you'll be in the kitchen for quite a long time. (It's worth it though!) Lastly, just go nuts on cutting up the cake. Cutting it into cubes was a chore to later mix into the ganache. Smaller pieces of cake worked better in the mixer.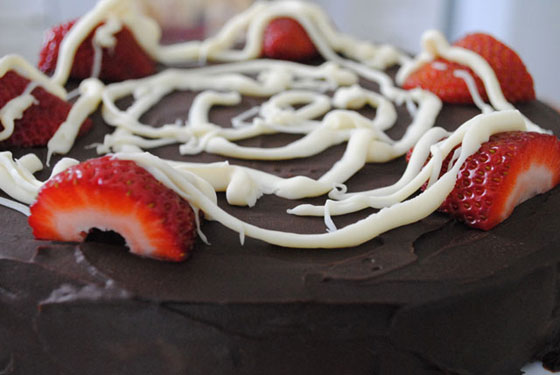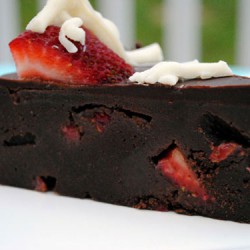 Fudge Lover's Strawberry Truffle Cake
Ingredients:
Cake
1 box Betty Crocker SuperMoist chocolate fudge cake mix
1 1/3 cups water
1/2 cup vegetable oil
3 eggs
2 cups cut-up fresh strawberries
Ganache
2 packages (8oz. each) semisweet baking chocolate, finely chopped
1 1/3 cups whipping cream (heavy)
1/4 cup butter
Garnish
6 fresh strawberries, cut in half lengthwise
1/4 cup white baking chips
1/2 tsp. vegetable oil
Directions:
1. Heat oven to 350°F (325°F for dark or nonstick pan). Grease bottom only of 13x9-inch pan with shortening or cooking spray. Make cake mix as directed on box, using water, oil and eggs.
2. Bake as directed on box for 13x9-inch pan. Cool completely, about 1 hour.
3. Meanwhile, in large bowl, place chopped chocolate; set aside. In 2-quart saucepan, heat whipping cream and butter over medium heat, stirring occasionally, until butter is melted and mixture comes to a boil. Pour cream mixture over chocolate; stir until smooth.
4. Line bottom of 9-inch springform pan with waxed paper round. Cut cake into 1-inch cubes (I cut into much smaller pieces to make mixing easier). In large bowl, beat half of the cake cubes on low speed until cake is crumbly. Add remaining cake cubes and 1 3/4 cups of the ganache (reserve remaining ganache for topping). Beat on low speed 30 seconds, then on medium speed until well combined (mixture will look like fudge). Fold in 2 cups cut-up strawberries. Spoon mixture into springform pan; smooth top. Cover with plastic wrap; freeze 45 minutes or until firm enough to unmold.
5. Run knife around side of pan to loosen cake mixture. Place serving plate upside down on pan; turn pan and plate over. Frost side and top of cake with reserved ganache. Arrange strawberry halves on top of cake.
6. In small microwavable bowl, microwave baking chips and 1/2 teaspoon oil uncovered on High 45 seconds, stirring every 15 seconds, until melted. Place in small resealable food-storage plastic bag; cut off tiny corner of bag. Drizzle over top of cake. Refrigerate until ready to serve. Cake is best served the same day.