This is such a great recipe when summer is bringing all the delicious fruits! Now I'm a diehard chocoholic, but there's something about fruit desserts in the summer. Blackberries are high on my favorite fruit list and they're fantastic in these Blackberry Crumb Bars. Feel free to sub blueberries, raspberries, or maybe a mix of all your favorites! The crust is delicate and has a hint of lemon and cinnamon. Those plump blackberries are in the middle, sweetened ever so slightly. The same crust as the bottom is crumbled on top. I highly suggest serving these bars warm with a big scoop of good vanilla ice cream. I love it when you get a bite that's warm and cold, and the ice cream gets a little melty. Summer at its best!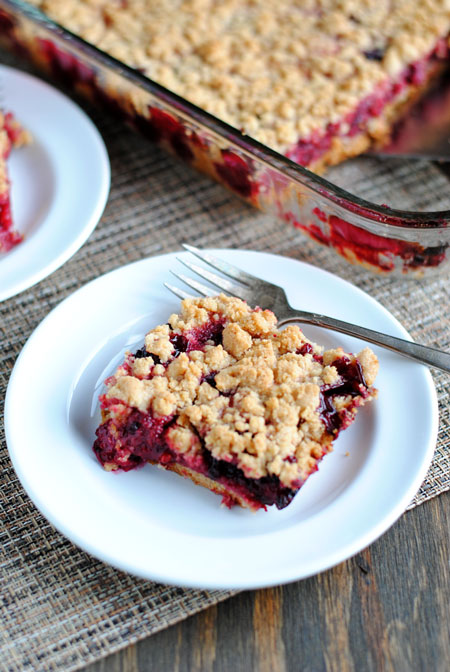 So, how's it taste?
I made these bars for a coworker's birthday, who is a big fan of fruit desserts, and they were a hit. I kept sneaking in the kitchen to get another bar and another big scoop of ice cream. Diet downfall for realz that day!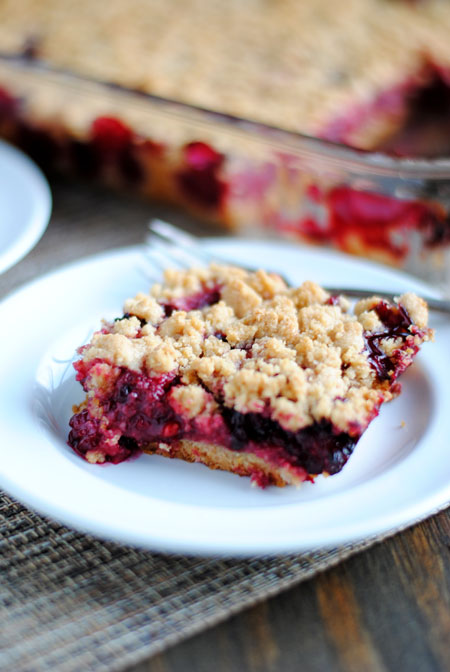 I like these bars because the crust is sweet and it helps to balance the really tart fruit. The blackberries I used were already tart, but they do get a little sugar shower. The recipe called for the juice of one lemon, which can vary greatly, and I think I had a really juicy lemon. I adjusted the recipe slightly to only call for 1/4 cup fresh lemon juice. The tart lemon took over the flavor of the blackberry, but I'm a big fan of lemon desserts so it didn't bother me. If you really wanted to cheat and sweeten this recipe, you could use pie filling. I tend to lean toward the fresh fruits though. Use them while they're at their peak!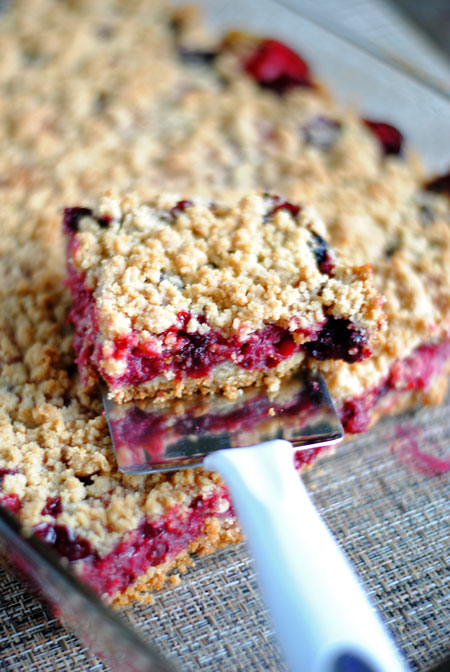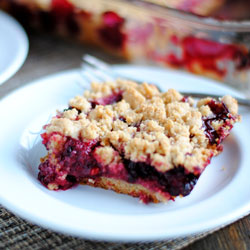 Yield: 12 bars
Prep Time: 15 min
Cook Time: 45 min
Total Time: 1 hr
Blackberry Crumb Bars
Ingredients:
3 cups all-purpose flour
1 1/2 cups sugar, divided
1 tsp. baking powder
1 tsp. cinnamon
1/4 teaspoon salt
Zest of one lemon
1 cup (2 sticks) cold unsalted butter, cut into 1 inch slices
1 large egg
2 tsp. vanilla extract
4 tsp. cornstarch
1/4 cup lemon juice
4 cups fresh blackberries
Directions:
1. Preheat oven to 375F. Spray a 9×13-inch pan with cooking spray (or grease with butter).
2. In a food processor, pulse together flour, 1 cup of sugar, baking powder, cinnamon, salt, and lemon zest. Add the butter, egg, and vanilla; pulse until dough is crumbly. Spread half of dough into bottom of prepared pan. Press down with your fingers to  evenly spread. Save remaining dough for topping.
3. In a medium bowl, stir together the remaining 1/2 cup sugar, cornstarch, and lemon juice. Gently mix in the blackberries. Sprinkle the blackberry mixture evenly over the crust. Crumble remaining dough over the berry layer.
4. Bake for 45 minutes, or until top is slightly brown. Careful not to cook too long or the bottom crust will burn.
5. Cool completely before cutting into squares. Store in an airtight container.