I believe this may be the third recipe on my blog involving mint chocolate chip. I love, love, love the flavor combination of mint and chocolate. After making the Irish Meringues, I still had egg whites to use and thought I'd experiment with another flavor, and that's how the Mint Chocolate Chip Meringues were born. Tiny bites to satisfy my mint chocolate cravings.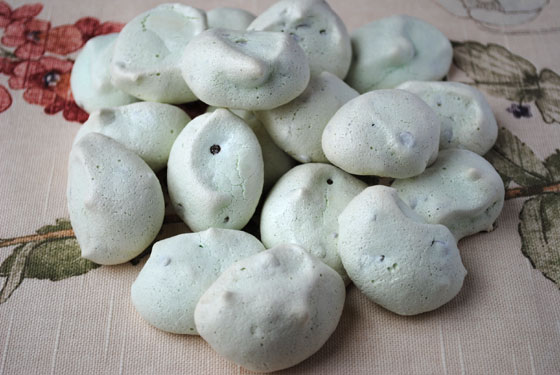 So, how's it taste?
I was pretty happy with the outcome. Nice crunch from the meringue, tiny bites of chocolate all delivered through a mint background. For whatever reason, I couldn't get the egg whites for this recipe to form stiff peaks, so the texture was slightly smoother. I was worried they wouldn't dry out when baked. They produced a slightly crunchier meringue than the Irish version, but they held up better in humid weather, too. You could also make these a lot prettier by piping them onto your cookie sheet, but I didn't think about that until I tried to photograph the river rocks that mine look like. Oh well, they tasted good!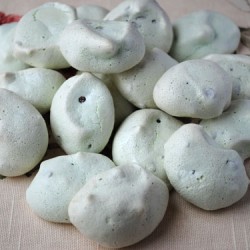 Mint Chocolate Chip Meringues
Ingredients:
2 egg whites
1/8 tsp. cream of tartar
1/8 tsp. salt
1/2 tsp. vanilla
1/2 tsp. mint extract
3/4 cup superfine sugar
1/2 cup mini chocolate chips
Green food coloring, optional (I used 2 drops)
Directions:
1. Preheat oven 300 degrees.
2. Beat egg whites, cream of tartar, and salt together until soft peaks form. Add vanilla and mint, then add sugar gradually, beating until stiff.
3. Fold in chocolate chips. Drop by teaspoon-fulls 2 inches apart on parchment-covered cookie sheet. Bake until dry, about 25 minutes.
4. Let cool slightly before removing from cookie sheet. Set on rack to cool before storing in airtight container. Freezes well.