I must be on a spicy chocolate kick. I can't get enough of that chocolate, cinnamon, and cayenne combination, whether it be in the form of brownies, ice cream, or these cupcakes! Those flavors were just meant to be together. What sparked this Cinn-Chili Chocolate Cupcake with Cinnamon Buttercream creation was the Mexican Style Cinn-Chili chocolate bar from Olive & Sinclair. It's been on my list to create something with it for quite some time now and I wasn't disappointed with how they turned out!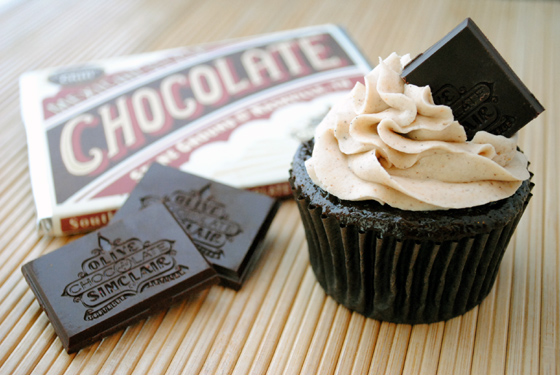 So, how's it taste?
Oh. My. Goodness. These cupcakes could not have turned out more perfect. The cake is super moist and rich with a deep chocolate flavor. I filled them with a chocolate pudding that's spiked with cayenne. It's creamy and decadent with just enough heat to let you know it's there, but not enough to burn your tongue. Since it's a double whammy of chocolate, I went with a cinnamon-cayenne buttercream. Yep, more heat in the buttercream! It's very subtle though. I didn't want the cupcakes to be overpowered with heat. The buttercream is beautifully speckled with dark brown cinnamon and red cayenne. It offers just a bit of sweetness to match the rich chocolate cake and pudding. Even if you don't care to much for spicy heat, you will still enjoy these cupcakes.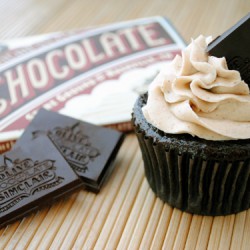 Cinn-Chili Chocolate Cupcakes with Cinnamon Buttercream
Ingredients:
Cupcakes
2 cups sugar
1 3/4 cups all-purpose flour
3/4 cup Hershey's cocoa
1 1/2 tsp. baking powder
1 1/2 tsp. baking soda
1 tsp. salt
2 eggs
1 cup milk
1/2 cup vegetable oil
1 tsp. vanilla extract
1 cup boiling water
Pudding
1 tbsp. cornstarch
2 tbsp. sugar
Pinch salt
1/4 tsp. cinnamon
Pinch cayenne
3/4 cups whole milk
1/2 bar (2.75 oz.) Olive & Sinclair Mexican Style Cinn-Chili chocolate, coarsely chopped
1/4 tsp. pure vanilla extract
Buttercream
1 cup butter, softened
4 cups powdered sugar, sifted
3-4 tbsp. milk
1 tsp. pure vanilla extract
1 tsp. ground cinnamon
1/2 tsp. cayenne (trust me on this or add gradually to your preferred heat level)
Olive & Sinclair chocolate, optional for garnish
Directions:
1. For the cupcakes, heat oven to 350°F. Line muffin cups (2-1/2 inches in diameter) with paper baking liners.
2. Stir together sugar, flour, cocoa, baking powder, baking soda, and salt in large bowl. Add eggs, milk, oil, and vanilla; beat on medium speed of mixer 2 minutes. Stir in boiling water (batter will be thin). Fill cups 2/3 full with batter.
3. Bake 22 to 25 minutes or until wooden pick inserted in center of cupcake comes out clean. Cool 10 minutes; remove from pans to wire racks. Cool completely.
4. For the pudding, combine the cornstarch, sugar, salt, cinnamon, and cayenne in the top of a double boiler or a heatproof bowl set over a larger pot filled with 1 inch of water. Slowly whisk in the milk, scraping the bottom and sides with a heatproof spatula to incorporate the dry ingredients. Place over gently simmering water and stir occasionally, scraping the bottom and sides. Use a whisk as necessary should lumps begin to form.
5. After 15 to 20 minutes, when the mixture begins to thicken and coats the back of the spoon, add the chocolate. Continue stirring for about 2 to 4 minutes, or until the pudding is smooth and thickened. Remove from the heat and stir in the vanilla. Transfer to a small bowl and cover, gently pressing a layer of plastic wrap against the surface before refrigerating (this will prevent a skin from forming). Refrigerate for at least 30 minutes and up to 3 days.
6. For the buttercream, beat butter until light and fluffy. Add sugar a 1/2 cup at a time until completely incorporated, adding up to 4 tablespoons of milk when the icing gets too thick. Add vanilla, cinnamon, and cayenne and beat until just combined.
7. Using a small pairing knife, cut out cones from the tops of cupcakes approximately 1 inch in diameter. Discard cut outs. (Or save for a late night snack!) Spoon approximately 1 tablespoon of pudding into each cupcake. Pipe buttercream on top, taking care to cover the pudding filling. Top each cupcake with half a square of O&S chocolate.