I've had this recipe for Lemon Curd bookmarked for months. Until making this, I don't think I'd ever eaten any kind of curd or bought it in the store. That might have been a good thing because now I'm addicted. The word "curd" doesn't give much credit to the deliciousness that awaits you. It's silky smooth and incredibly decadent.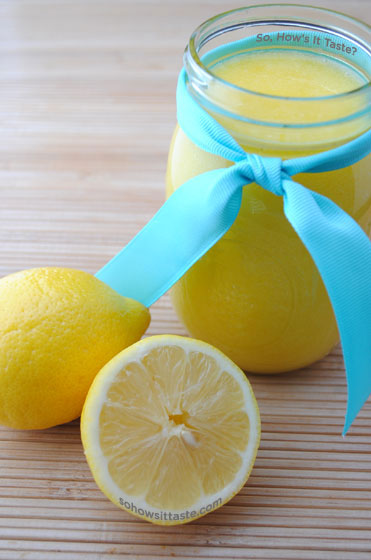 So, how's it taste?
I loved this! I didn't doubt that I wouldn't like it, but I had no idea how good it was going to be. It was incredibly easy to make and perfumed my kitchen with lemon. It's richness no doubt comes from the eight egg yolks and 10 tablespoons of butter. It's quite decadent, but not exactly something I can eat everyday and keep my girlish figure! But a splurge every now and then is worth it! You can adjust the sugar depending on how tart or how sweet you like it. I used one cup of sugar because I like my lemon to have a pucker. If you lean more on the sweet side, increase it up to 1 1/2 cups total.
What can you eat with lemon curd? Spread it on a scone or muffin, swirl it into your yogurt, or team up with a friend and create a sinful dessert! Recently Shannon from Bake.Frost.Repeat. and I planned a lemon-themed birthday party for our friend and coworker, Denise. She LOVES lemon! I made this curd and gave it to Shannon to fill her lemon cupcakes, which she then topped with lemon buttercream. After eating one, I claimed it to be one of the best cupcakes I've ever had, and hands down the best lemon cupcake. The tart curd paired beautifully with the slightly sweet lemon cake and the buttercream was a combination of sweet and tart. Everything together was one big wow factor with lemon.
There are so many ways to enjoy lemon curd, but the easiest is straight from the jar with a spoon! I can't wait to make more and experiment with other flavors.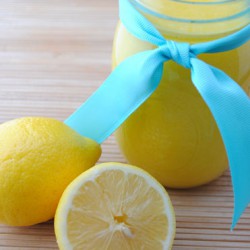 Lemon Curd
Ingredients:
1/2 cup lemon juice
1 tbsp. lemon zest
1 - 1 1/2 cups sugar
8 egg yolks
10 tbsp. butter, sliced into tablespoons
Directions:
1. In a medium saucepan, combine the lemon juice, lemon zest, and sugar. Heat over medium heat until simmering. Turn heat to low.
2. Meanwhile, whisk the egg yolks in a medium sized bowl until smooth. Slowly pour half of the citrus mixture into the yolks while vigorously whisking. Return the mixture to the saucepan.
3. Continue cooking over low heat while whisking until mixture thickens and coats the back of a spoon. About 5-10 minutes. Remove from heat and stir in the butter 1 tablespoon at a time.
4. Cool to room temperature. Store refrigerated in an airtight container for about a week.