I watched Ina Garten make these Toasted Coconut Marshmallows on her show years ago, and they've been in the back of my mind to make ever since. My mom's birthday was last Monday and I wanted to make something really special for her. The marshmallows were the first thing to come to mind! Marshmallows seem to be gaining popularity these days, especially with The Bang Candy Company in Nashville. I've also noticed a lot of food bloggers posting marshmallow recipes for Valentine's Day. They are such a perfect gift!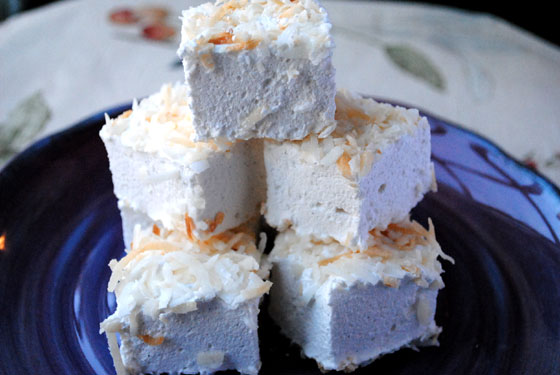 So, how's it taste?
Incredibly good. Way, way better than the manufactured puffs you buy in the store. Soft, fluffy, full of vanilla flavor and that coconutty crunch! They are awesome! Make sure you use really good pure vanilla extract since that's the flavor that shines through. I like to use Madagascar Bourbon Pure Vanilla Bean Paste. It has the vanilla bean seeds in it and they make the marshmallows look very gourmet. I use this paste in pretty much all of my recipes that call for vanilla extract. It's amazing. I buy mine at The Fresh Market grocery store.
I found these marshmallows very easy to make, but very messy, in a be-a-kid-again fun way though! One thing to note: when you add the hot syrup to the gelatin it will smell bad, make that horrible, like cat urine horrible. I thought I had messed up the recipe at first, but thanks to the power of Twitter and my friend Erin, I found out that is normal and it goes away. I promise your marshmallows will not taste like that smell! Another tip from Erin was to use a pizza cutter sprayed with cooking spray to cut your marshmallows. Worked like a charm!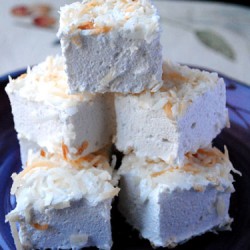 Toasted Coconut Marshmallows
Ingredients:
7 oz. sweetened shredded coconut, toasted
3 packages unflavored gelatin
1 cup cold water, divided
1 1/2 cups granulated sugar
1 cup light corn syrup
1/4 tsp. kosher salt
1 tbsp. pure vanilla extract
Confectioners' sugar, for dusting
Directions:
1. Toast the coconut by spreading in a thin layer on a baking sheet. Bake at 300 degrees for about 20 minutes, stirring every 5 minutes to make sure that the coconut browns evenly. Set aside to cool.
2. Combine the gelatin and 1/2 cup of cold water in the bowl of an electric mixer fitted with the whisk attachment and allow to sit while you make the syrup.
3. Meanwhile, combine the sugar, corn syrup, salt, and 1/2 cup water in a small saucepan and cook over medium heat until the sugar dissolves. Raise the heat to high and cook until the syrup reaches 240 degrees F on a candy thermometer. Remove from the heat.
4. With the mixer on low speed, slowly pour the sugar syrup into the dissolved gelatin. Put the mixer on high speed and whip until the mixture is very thick, about 15 minutes. Add the vanilla and mix thoroughly.
5. Sprinkle half the toasted coconut in an 8 by 12-inch nonmetal pan. Pour in the marshmallow batter and smooth the top of the mixture with damp hands. Sprinkle on the remaining toasted coconut. Allow to dry uncovered at room temperature overnight.
6. Remove the marshmallows from the pan and cut into squares. Roll the sides of each piece carefully in confectioners' sugar. Store uncovered at room temperature.