I know you're not supposed to pick favorites, but come on, we all do it. I think it was just about a year ago when my friend Lindsay from Love & Olive Oil was testing recipes for her first cookbook, The Cookie Dough Lover's Cookbook, and I instantly had a favorite from everything I'd sampled and made. Cookie Dough Whoopie Pies stole the show for me. I think I took home about eight whoopie pies after sampling them. Hey, she offered! I put them in the freezer thinking that would keep me from from devouring all eight at once, but nope, that didn't stop me. I had those whoopie pies polished off in no time. My long wait for getting the recipe is finally over and you know it was the first thing I made after I got my copy of Lindsay's cookbook.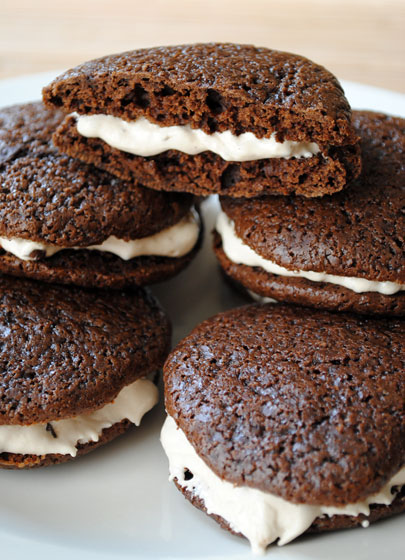 So, how's it taste?
These whoopie pies really may be my favorite dessert on my blog. They are addictive, rich, decadent…absolutely perfect. The outside is a very moist chocolate cake that is enhanced from espresso powder. You can't taste the espresso, but it brings out the richness of the chocolate. This chocoholic approves! What brings me to my knees is the inside. That's where the cookie dough comes in. It's eggless cookie dough mixed with marshmallow creme. You know how raw cookie dough has that grainy texture from the sugar? This has that plus marshmallow fluff. And those itty bitty chocolate chips! It seriously tastes just like cookie dough. Sandwiched between two chocolate cakes…it's almost maddening how delicious they are!
It's dangerous to have this recipe, so you've been warned. I declared this past weekend my whoopie pie binge weekend. I'm not ready to tell you how many I ate…it would probably make a world record book.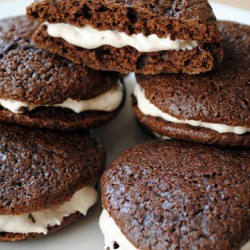 Cookie Dough Whoopie Pies
Ingredients:
Cookies
2 cups all-purpose flour
1 tsp. baking soda
1/2 tsp. salt
1/2 cup dark or Dutch-processed cocoa powder
1 tsp. instant espresso powder
1 cup granulated sugar
3/4 cup whole milk
1/3 cup vegetable oil
1 egg
2 tsp. vanilla extract
Filling
1/2 cup unsalted butter, room temperature
1/2 cup light brown sugar, packed
1/3 cup all-purpose flour
1/2 tsp. salt
1 (7 oz.) jar marshmallow creme
1 tsp. vanilla extract
2/3 cup mini semisweet chocolate chips
Directions:
1. Preheat oven to 350F. In a large bowl or in a mixer, add the flour, baking soda, salt, cocoa powder, and espresso powder. Stir in sugar. Add the milk, oil, egg, and vanilla. Stir until all ingredients are incorporated and no large lumps remain. Mixture should have the consistency of thick cake batter.
2. Line a baking sheet* with a silicone mat or parchment paper. Drop batter by the tablespoonful, approximately 2 inches apart. Bake 10 to 12 minutes or until cookies are set. Let cool on baking sheet for 5 minutes. Transfer to a wire rack and cool completely.
3. For the filling, beat together the butter and brown sugar using an electric mixer on medium speed until light and fluffy, about 2 minutes. Mix in flour and salt on low speed until incorporated. Add marshmallow creme and vanilla and beat until fluffy. Stir in the chocolate chips.
4. Assemble the whoopie pies by spreading a heaping tablespoon of filling onto one cookie. Top with another cookie. Press until the filling reaches the edge. Repeat with remaining cookies. Cookies will keep for up to 3 days in a refrigerated container.
*Note: I made some of my whoopie pies using a muffin top/whoopie pie pan. I don't recommend this as the cakes were too thick and made for a too large whoopie pie.