Of course I'm talking about dessert! You know what I mean. Here comes the dessert cart or you're walking through the food line and at the end is 8,000 choices of delicious sweet goodness. You don't want to pile your plate, but it's pure torture deciding between that slice of cake or scoop of pudding. So why choose one? Which is why I love, love, love these cookies. Have a candy bar, and multiple ones at that, and a cookie! That's right! Meet Chocolate Chip Cookies with Hershey's Assorted Miniatures. It's like five desserts in one cookie. You get a cookie, you get Mr. Goodbar, you get milk chocolate, you get Special Dark, and my personal favorite Krackel.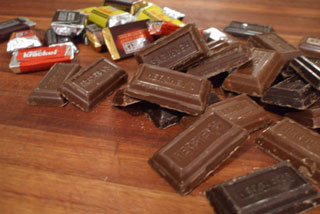 So, how's it taste?
Like a walk down memory lane all wrapped into a cookie. I remember Hershey's Miniatures from way back. I'm pretty sure they are a Halloween staple. These candy bars really turn a chocolate chip cookie into something with sass! One bite and you can get a bit of milk chocolate or dark chocolate, and the Mr. Goodbar adds just the right amount of peanuts. There's also a nice crunch from the Krackel. You never know which candy bar combination you'll end up with. I've made these cookies several times and they are such a nice change from chocolate chips. I bet this would be a good recipe for trying other candy bars as well. The possibilities are endless!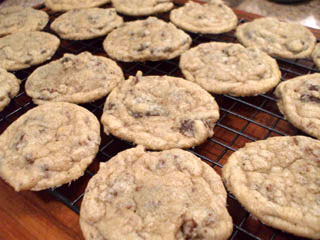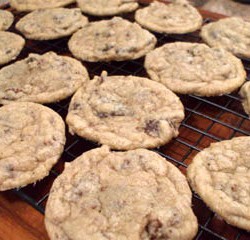 Chocolate Chip Cookies with Hershey's Assorted Miniatures
The Candy Bar Cookbook
by Alison Inches and Ric McKown
Ingredients:
45 Hershey's Assorted Miniatures
8 oz. butter (2 sticks) room temperature
1 cup sugar
1 cup brown sugar
2 eggs
1 tsp. vanilla
1 tsp. baking soda
1 tsp. salt
3 cups flour
Directions:
1. Preheat the oven to 325 degrees. Spray a cookie sheet with nonstick spray.
2. Coarsely chop the candy bars.
3. In a large bowl using electric mixer, cream the butter, sugar, and brown sugar. Beat in the eggs and vanilla.
4. Add the baking soda, salt, and flour and mix until well blended.
5. Fold in the chopped candy bars.
6. Using an ice cream scoop or teaspoon, scoop 1-inch rounds of dough onto prepared cookie sheet 2 inches apart.
7. Bake for 9 to 11 minutes or until just golden.
8. Let rest for 2 minutes before transferring to a rack.
9. Cool completely before storing. Makes about 3 dozen cookies.