How long has it been since you had Reese's Pieces? Every time I think of them, I instantly think of E.T. If you were a child of the 80s, I'm sure you do, too! The combination of chocolate and peanut butter is as classic as it gets. Last year we made M&M's Cookies, so this year we turned to Reese's Pieces Chocolate Cookies! I always forget how good those peanut butter bites in a candy shell taste.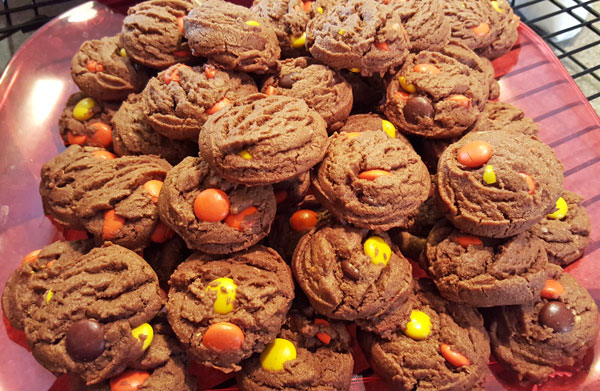 So, how's it taste?
I had high hopes for these cookies, but they didn't quite live up to expectations. They just weren't chocolately enough for me and too much peanut butter. I couldn't taste the chocolate at all. It doesn't make this necessarily a bad cookie, but was more of a super peanut butter cookie with peanut butter candy. I think I'd like to tweak this recipe and use 1/2 the amount of Reese's Pieces and the other 1/2 chocolate chips.
This chocoholic needs to taste chocolate if it's going to be in the name! If you're a peanut butter lover, then these are for you!
Other goodies from Cookie Baking Day 2015:
Cream Cheese Spritz Cookies
Mint Chocolate Chip Cookies
Pumpkin Pecan Spice Cookies
Cake Batter Chocolate Chip Cookies
Holiday Pantry Cookies (recipe coming soon!)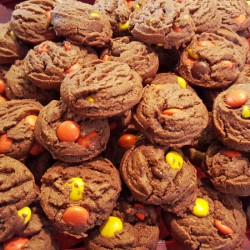 Reese's Pieces Chocolate Cookies
Ingredients:
1/2 cup granulated sugar
1/2 cup packed brown sugar
1/2 cup butter, softened
1/2 cup peanut butter
1/2 tsp. vanilla
1 egg
1 1/4 cups all-purpose flour
1/4 cup unsweetened baking cocoa
1 tsp. baking soda
1/4 tsp. salt
1 1/4 cups (about 12 oz.) Reese's Pieces candies
Directions:
1. Heat oven to 350F. Lightly grease cookie sheet or use parchment paper.
2. In large bowl, beat sugars and butter with electric mixer on medium speed until creamy. Beat in peanut butter, vanilla, and egg. Stir in flour, cocoa, baking soda, and salt. Stir in candies. Drop dough by heaping tablespoonfuls onto cookie sheet.
3. Bake 8 to 12 minutes or until edges are set (centers will be soft). Cool 1 minute; remove from cookie sheet to cooling rack. Cool completely, about 30 minutes.