I love describing things as "vanilla" when they are ordinary or a little too normal. Some folks are vanilla and some folks are not. I happen to be one of the nots. I will never order a vanilla ice cream and you'd have to force white cake down my throat (unless it's between the layers in Raspberry Elegance). Now we all know apple pie is about as American as you can get, but let's face it, it's one of the more boring pie choices out there. That is until I discovered Topsy-Turvy Apple Pie.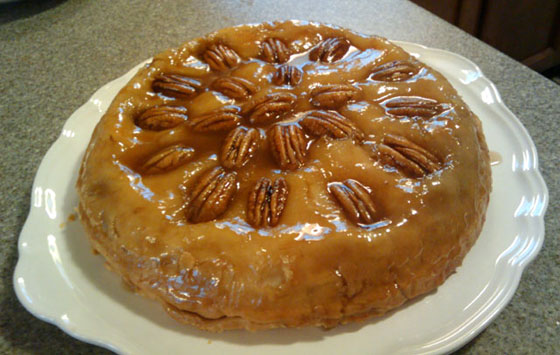 So, how's it taste?
Everything's better with a twist! Take your average apple pie, turn it upside down, and top it with pecans and a sticky crust. That's the way to do it! This is the best apple pie I've tasted and certainly the best I've ever made. This is one of my most nostalgic recipes to make because it took me several tries to get it just right. The first time I didn't use all the apples because it seemed like they wouldn't fit, and there's definitely an art to flipping over the pie out of the dish. I use Granny Smiths for their tartness to balance the sweetness of the crust, and they hold up when baking. This pie is amazingly good and so easy with few ingredients. I make it all the time during the holidays. Know what takes amazing to awesome? Top this with a scoop of vanilla! Hmmm, does that make this pie so vanilla or so not? I guess you can't be vanilla if you've got pie underneath it! Enjoy!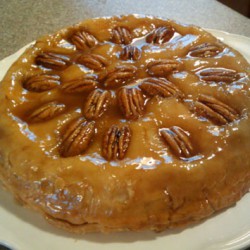 Topsy-Turvy Apple Pie
Ingredients:
Glaze and Crust
1/4 cup packed brown sugar
1 tablespoon butter, melted
1 tablespoon corn syrup
1/2 cup pecan halves
1 box refrigerated pie crusts, softened as directed on box
Filling
2/3 cup granulated sugar
2 tablespoons all-purpose flour
1/2 teaspoon ground cinnamon
4 cups thinly sliced, peeled apples (4 medium)
Topping
Whipped cream, if desired
Directions:
1. Heat oven to 425°F. In 9-inch glass pie plate, mix brown sugar, butter and corn syrup. Spread evenly in bottom of pie plate. Arrange pecans over mixture. Make pie crusts as directed on box for Two-Crust Pie, placing bottom crust over mixture in pan.
2. In small bowl, mix granulated sugar, flour and cinnamon. Arrange half of apple slices in crust-lined pie plate. Sprinkle with half of sugar mixture. Repeat with remaining apple slices and sugar mixture. Top with second crust; seal edge and flute. Cut slits in several places in top crust.
3. Place pie on sheet of foil on middle oven rack in oven; bake 8 minutes. Reduce oven temperature to 350°F; bake 35 to 45 minutes longer or until apples are tender and crust is golden brown. Immediately run knife around edge of pie to loosen. Place serving plate upside down over pie; turn serving plate and pie plate over. Remove pie plate. Serve warm or cool with whipped cream.