I made cupcakes not too long ago and had a lot of cream cheese icing leftover. What to do? Make another dessert of course! It's been a while since I've made whoopie pies and since it's everywhere…why not make Pumpkin Whoopie Pies! The cream cheese filling would go so well with anything pumpkin.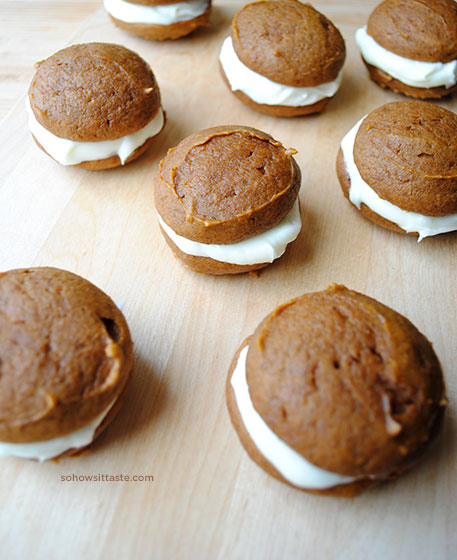 So, how's it taste?
While I had no trouble eating several of these little pies, they weren't what I expected. Flavor-wise they were spot on. I very slightly adjusted their recipe to include nutmeg as one of the spices. What's a pumpkin whoopie pie without pumpkin pie spice?! (Sick of pumpkin spice? Enjoy this video!) That's the only thing I changed. The texture was way too soft for my liking of what a whoopie pie cake should be. They were delicious and slightly spicy, but uber moist. I think a whoopie pie should be able to hold up to well, holding it.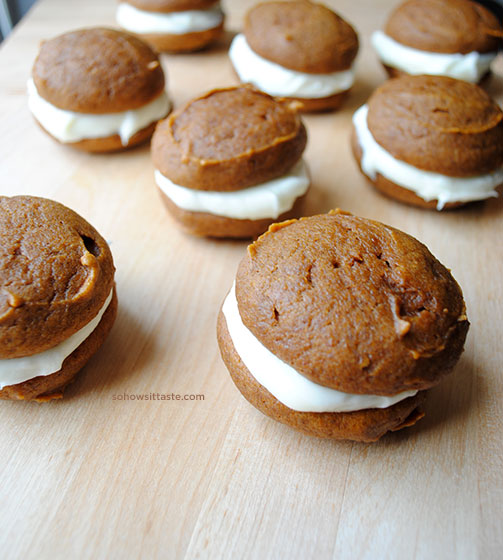 The recipe states this makes 12 whoopie pies. I ended up with 25. TWENTY-FIVE. Go home Matt and Renato, you're drunk. I'm not sure what was going on in the kitchen when they wrote this recipe. Also, you'll notice from their picture in the book and mine here that they are small whoopie pies and kind of bulky. I like mine a little more wider and flatter, like a sandwich cookie. You could definitely spread the batter out a little before baking, but it was less messy to just scoop it out and plop it on the baking sheet.
Great flavor, but I think I'll keep searching for a better recipe for the texture. It's not a bad gig to "research" more pumpkin whoopie pies!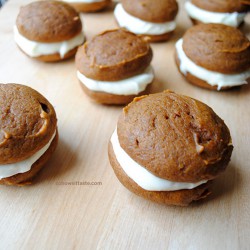 Pumpkin Whoopie Pies
Ingredients:
Whoopie Pies
3 cups all-purpose flour
1 tsp. salt
1 tsp. baking powder
1 tsp. baking soda
2 tbsp. ground cinnamon
1 tbsp. ground ginger
1/2 tbsp. ground nutmeg
1/2 tbsp. ground cloves
2 cups firmly packed dark-brown sugar
1 cup vegetable oil
3 cups pumpkin puree, chilled
2 large eggs
1 tsp. pure vanilla extract
Cream Cheese Filling
3 cups confectioners' sugar
1/2 cup (1 stick) unsalted butter, softened
8 oz. cream cheese, softened
1 tsp. pure vanilla extract
Directions:
1. For the cookies, preheat oven to 350 degrees. Line two baking sheets with parchment paper or a nonstick baking mat; set aside.
2. In a large bowl, whisk together flour, salt, baking powder, baking soda, cinnamon, ginger, nutmeg, and cloves; set aside. In another large bowl, whisk together brown sugar and oil until well combined. Add pumpkin puree and whisk until combined. Add eggs and vanilla and whisk until well combined. Sprinkle flour mixture over pumpkin mixture and whisk until fully incorporated.
3. Using a small ice cream scoop with a release mechanism, drop heaping tablespoons of dough onto prepared baking sheets, about 1 inch apart. Transfer to oven and bake until cookies are just starting to crack on top and a toothpick inserted into the center of each cookie comes out clean, about 15 minutes. Let cool completely on pan.
4. For the filling, sift confectioner' sugar into a medium bowl; set aside. In the bowl of an electric mixer fitted with the paddle attachment, beat butter until smooth. Add cream cheese and beat until well combined. Add confectioners' sugar and vanilla, beat just until smooth. (Filling can be made up to a day in advance. Cover and refrigerate; let stand at room temperature to soften before using.)
5. Assemble the whoopie pies: Line a baking sheet with parchment paper and set aside. Transfer filling to a disposable pastry bag and snip the end. When cookies have cooled completely, pipe a large dollop of filling on the flat side of half of the cookies. Sandwich with remaining cookies, pressing down slightly so that the filling spreads to the edge of the cookies. Transfer to prepared baking sheet and cover with plastic wrap. Refrigerate cookies at least 30 minutes before serving and up to 3 days.
slightly adapted from Baked: New Frontiers in Baking
This post contains affiliate links.