If you've never had a Bushwacker, boy you are missing out. It's an alcoholic drink and it tastes like heaven. Picture a milkshake all boozed up. There's nothing like sitting on a patio with friends sipping on one (or two) Bushwackers without a care in the world. Trust me, two is all you need and that's living dangerously. A few months ago I stumbled on a recipe for Bushwacker Jelly Shots and I had to make them. These definitely are not your regular red or green concoctions served in a Dixie Cup.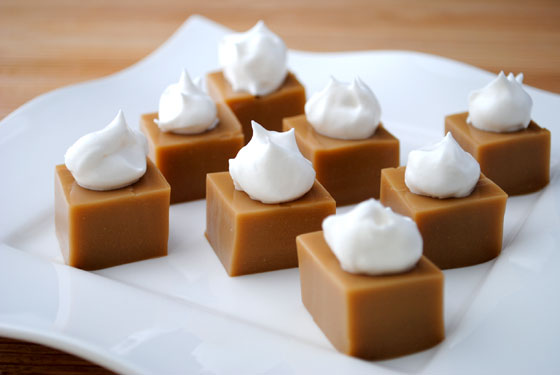 So, how's it taste?
Pretty much like heaven in jelly form! Although the Bushwacker drink is full of different liquors, it's somehow masked and tastes more like a regular milkshake. The jelly shot version, not so much. They pack a punch! You can taste the alcohol, but then there's a slightly sweet aftertaste that makes you go for more. While the whipped cream is optional, I suggest adding it because it helps cut down on the bite of alcohol. And I think they're cute with a dollop on top! Make sure to serve these slightly cooler than room temperature and not straight out of the fridge. They're really thick when chilled and require too much chewing, which any jelly shot enthusiast would tell you is not good. Once they lose a bit of chill, they are perfect. You may never settle for any ol' jelly shot after eating one of these. Who knew jelly shots could go gourmet?!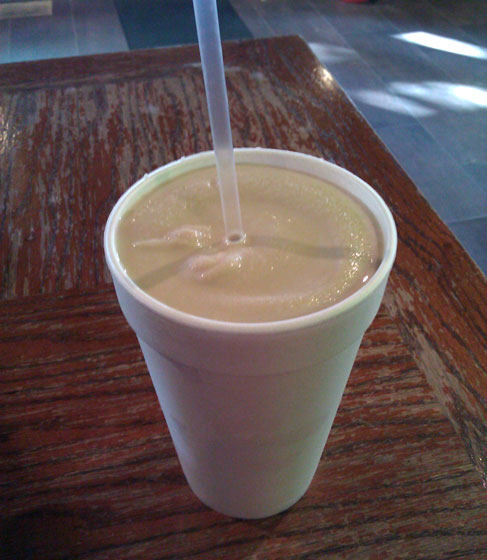 If you're interested in trying the Bushwacker drink, I suggest Rebar or Broadway Brewhouse, both in midtown Nashville. I tend to favor Rebar's just slightly, but both are delicious. Stop at two, or you may end up creating your own version of The Hangover.
Rebar
1919 Division Street
Nashville, TN 37203
(615) 891-1133
Hours:
Monday-Friday 2pm-3am
Saturday-Sunday 11am-3am
Broadway Brewhouse
1900 Broadway
Nashville, TN 37203
(615) 340-0089
Hours:
Open daily 11am-3am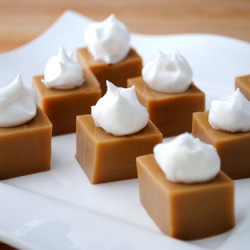 Bushwacker Jelly Shots
Ingredients:
1/2 cup water
2 envelopes Knox gelatin
3/8 cup vanilla ice cream, melted
1/4 cup Kahlua
1/4 cup crème de cacao
1/4 cup Bailey's Irish Cream
1/8 cup light rum
1/8 cup dark rum
1/8 cup amaretto
1/8 cup Coco Lopez coconut milk
whipped cream, for garnish
Directions:
1. Pour water in saucepan, sprinkle with gelatin and allow gelatin to soak for a few minutes. Add the melted ice cream. Heat over very low heat until gelatin is dissolved, stirring constantly (about 5 minutes). Once combined, stir in the remaining ingredients.
2. Pour mixture into a glass or non-reactive metal loaf pan (approximately 8" x 4"). Refrigerate until fully set (several hours or overnight).
3. To serve, cut into small, bite-sized squares. Top with small dollop of whipped cream. Jelly shots taste best when they are slightly cooler than room temperature, so let sit for a few minutes instead of serving right from the fridge. Store any leftovers in the fridge.