Desserts are one of my most favorite things to cook up in the kitchen. I love when friends' birthdays come around because it gives me an excuse to make something delicious and share it. For my friend Allison's birthday I chose this Raspberry Cookie Tart. It's basically a gigantic chocolate chip cookie, smothered in cream cheese, raspberries, and chocolate. Sounds like a happy birthday to me!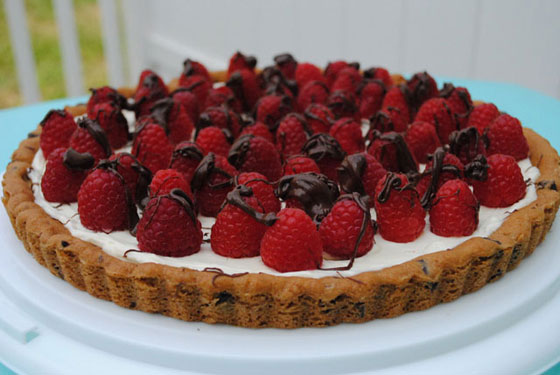 So, how's it taste?
As awesome as it looks! It's hard to go wrong with a chocolate chip cookie. The cream cheese is sweetened with a touch of orange, then you get a burst of fruit flavor with the raspberries. The drizzle of chocolate was just enough to make it special. For all of the ingredients, it would seem like it would be over-the-top sweet, but it wasn't. The fruit flavors balance out the chocolate so well. Of course, you could use any berry or a mixture if you like. When I took this to the party and lifted the lid of my carrier, the smell was heavenly. One slice of this dessert and I was hooked. It's also super easy to make which is always a plus in my book!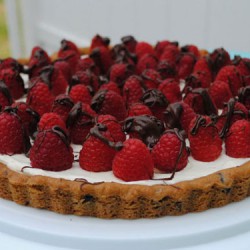 Raspberry Cookie Tart
Ingredients:
1 roll (18 oz.) refrigerated chocolate chip cookies
1 package (8 oz.) cream cheese, softened
1/4 cup powdered sugar
1 tbsp. orange juice
1 pint (2 cups) fresh raspberries
1/4 cup semisweet chocolate chips
1/4 tsp. vegetable oil
Directions:
1. Heat oven to 350 F. Break up cookie dough and press into ungreased 10-inch tart pan with removable bottom.
2. Bake 22 to 25 minutes or until deep golden brown. Cool completely, about 30 minutes.
3. In medium bowl with electric mixer, beat cream cheese, powdered sugar and orange juice on medium speed until well blended. Spread over cooled crust. Top with raspberries.
4. In small microwavable bowl, microwave chocolate chips and oil on high 1 to 2 minutes; stirring until smooth. Drizzle over raspberries.