Tomorrow is National Coffee Break Day, although with my mean iced coffee addiction, I celebrate every day! I like to drink coffee hot or iced and I like to cook and bake with it. One of my all-time favorite desserts is tiramisu. A few months back, I hosted a dinner party and served Easy Tiramisu. It was easy enough, but I used coffee that was way too dark and bitter, and it made for quite an embarrassing finish to dinner. I was thrilled when the nice folks at Starbucks sent me a package of their new lighter Blonde Roast in the Veranda Blend. Did I brew a cup of coffee? Nope. I immediately thought of my tiramisu oops and made another one using the Blonde Roast VIA packet!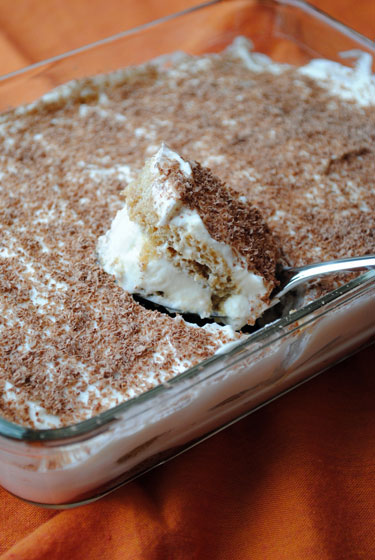 So, how's it taste?
Whoo hoo! Hello tasty, delicious, not-at-all bitter tiramisu! I'll admit I was a little nervous making batch #2 because Starbucks coffee has always been way too dark for me, even the medium roasts. I expected their Blonde Roast would still be too much. I'm happy to report that there's finally a coffee for me at Starbucks. The Blonde Roast was just enough coffee flavor to make Easy Tiramisu a hit. I didn't want the coffee to compete with the insanely decadent mascarpone filling, it needed to compliment it. It's not too sweet and has a subtle hint of the brandy. Paired with delicate ladyfingers in coffee and a light dusting of chocolate, it's heaven. It took me minutes to put this dessert together and the hardest part was waiting on it to set in the fridge. I halved the recipe to make a smaller one and it worked great. The full recipe serves four, but it's really big servings, so you could probably get six total.
To make sure I wasn't crazy in liking the new Blonde Roast, I brewed some for a nice cup of coffee. Again, I'll admit, I was nervous I'd hate the cup of coffee and only really liked it in dessert. As it was brewing, it smelled awesome. It smelled like coffee that I would want to drink. I enjoyed it…a lot. I couldn't believe this was from Starbucks.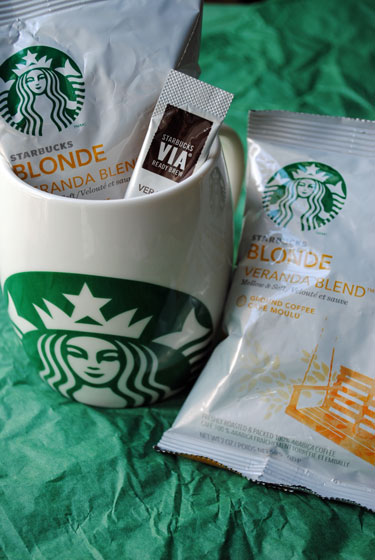 Disclosure: Starbucks sent me free samples of their new Blonde Roast Veranda Blend coffee, but I was not compensated for this post. All opinions expressed here are solely my own.
Starbucks wants you to enjoy their new Blonde Roast Veranda Blend, too! TWO lucky winners will each receive a Starbucks mug, sample bags of Blonde Roast Veranda Blend, and a pack of VIA Ready Brew Veranda Blend. You can make this Easy Tiramisu or try these Espresso Caramel Bars! Once you try the new Blonde Roast, share your experience on twitter using the hashtag #StarbucksBlonde.
To enter: All you need to do is comment on this post and tell me how you take your coffee. Black, with cream and sugar, in a dessert…? This giveaway is only open to U.S. residents.
Optional entries: For up to two additional entries, do one or both of the following and leave a separate comment telling me you did so.
1. Follow @sohowsittaste on Twitter and tweet the following: "I can't wait to try the new @Starbucks Blonde Roast! Win a cool mug and samples from @sohowsittaste! http://bit.ly/zj8jo5 #StarbucksBlonde"
2. Like So, How's It Taste? on Facebook and include your first name and last name initial in the comment so I can verify.
I'll randomly select the winner on Wednesday, January 25th at noon Central. Please make sure you enter a valid email address as an alternate winner will be chosen if I don't hear from you within 24 hours. Good luck!
Congratulations to Jamie (comment #43) and Aubrey (comment #5)!
You'll both enjoy Starbucks Blonde Roast in a snazzy mug very soon!
Winners chosen using Random.org
Thanks to everyone who entered!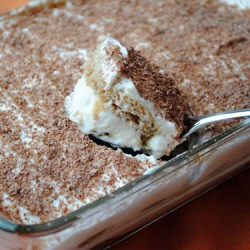 Easy Tiramisu
Ingredients:
1 Starbucks VIA Ready Brew Veranda Blend packet
1 cup boiling water
2/3 cup mascarpone cheese
2/3 cup heavy cream
3 tbsp. brandy
1/2 tsp. pure vanilla extract
1/3 cup sugar
12 store-bought ladyfingers (about 6 oz.)
1 oz. semisweet chocolate, shaved or grated
Directions:
1. Mix the Starbucks VIA packet and boiling water until dissolved. Refrigerate until cool.
2. With an electric mixer, whisk together the mascarpone, heavy cream, brandy, vanilla, and sugar until soft peaks form.
3. Place the ladyfingers in an 8 1/2-by-4 1/2-inch glass loaf pan so they fit snugly, trimming the ends if necessary to fit. Pour the Starbucks VIA in a shallow bowl. Briefly dip the ladyfingers in the coffee, one at a time, coating both sides. Do not fully submerge or you'll soak up too much of the coffee.
4. Line the bottom of the pan with half the ladyfingers. Spoon half the mascarpone mixture on top. Layer with the remaining ladyfingers and the mascarpone mixture. Smooth the top with a spatula. Sprinkle with chocolate.
5. Cover the dish and refrigerate until set, at least one hour or up to overnight.