Butter Pecan Ice Cream is one of my favorites. It only comes second to Mint Chocolate Chip, so it was simply a matter of time before I made it. Some of you must really enjoy it as well because it was the #1 voted flavor I should make next when I posted a few choices on Facebook a while back. It beat out Whoppers Ice Cream by one vote, but you know I'll make that one soon! So without further ado, here's a big bowl of ice cream just for you!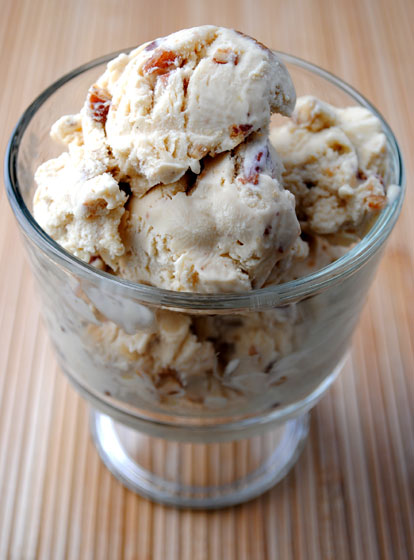 So, how's it taste?
Fantastic! Tastes even better than what you'll find in the grocery store or ice cream shop. I was a little worried after looking over the ingredients list that this wouldn't match what I'm used to eating. Somehow it all comes together perfectly. It's rich, creamy, and buttery. That tiny bit of scotch and brown sugar really make the ice cream something special. I'm a huge fan of pecans and they bring the final element of this ice cream together to make it delicious. Smooth ice cream with chunks of buttery pecans. No wonder it's among my favorites!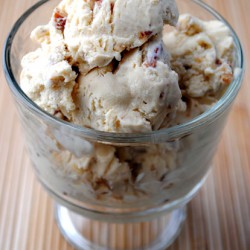 Butter Pecan Ice Cream
Ingredients:
Ice Cream
5 tbsp. butter, salted or unsalted
3/4 cup packed dark brown sugar
1/2 tsp. coarse salt
2 cups heavy cream
3/4 cup whole milk
6 large egg yolks
1/2 tsp. vanilla extract
1 tbsp. scotch whisky
Buttered Pecans
1 1/2 tbsp. butter, salted or unsalted
1 1/2 cups pecan halves
1/4 tsp. coarse salt
Directions:
1. For the ice cream, melt butter in a medium saucepan. Stir in brown sugar and salt. Whisk in 1 cup of the cream and the milk.
2. Warm the brown sugar mixture. Pour the remaining 1 cup cream into a large bowl and set a large mesh strainer on top.
3. In another bowl, whisk the egg yolks. Slowly pour the brown sugar mixture in to the egg yolks, whisking constantly, then pour the warmed egg yolks back into the saucepan.
4. Stir the mixture constantly over medium heat, scraping the bottom as you stir, until the mixture thickens and coats the back of a spatula. Pour the mixture through the strainer and stir into the cream. Add the vanilla and scotch, stir until cool over an ice bath. Chill the mixture thoroughly in the refrigerator.
5. Meanwhile, for the buttered pecans, preheat an oven to 350F. Melt the butter in a skillet or microwave. Toss the pecans with the melted butter until well coated, then sprinkle with salt. Spread evenly on a baking sheet and toast in the oven for up to 10 minutes, stirring once halfway through baking.
6. Let the pecans cool and chop coarsely.
7. Freeze the chilled cream in your ice cream maker according to the manufacturer's instructions. During the last few minutes of churning, add the pecans.