I had a very special reason to bake these cupcakes. One of my new year's resolutions was to volunteer at least once a month and I'm happy to report that I haven't broken it yet! It had been a few years since I visited Hope Lodge. It's part of the American Cancer Society and exists to offer a solution to cancer patients getting treatment far from home. Housing is free and several times a month volunteers cook dinner for the patients and their families. I had to pull out all the stops on this one and went to one of my favorite blogs for sweet treats. Jessica of The Novice Chef did not disappoint with her Samoas Cupcakes, which I decided to rename Chocolate Coconut Cupcakes with Salted Caramel Buttercream to highlight the insanely delicious buttercream.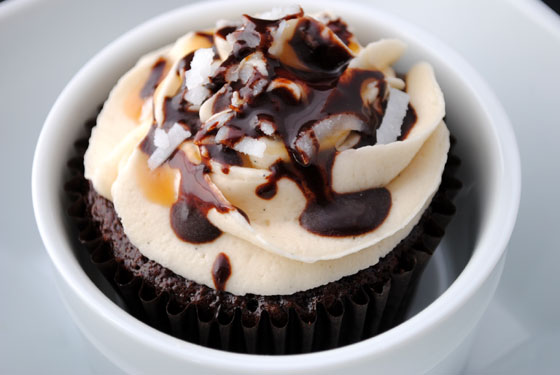 So, how's it taste?
Meet my #1 favorite cupcake ever. These cupcakes held the top spot for a long time, but oh my my they have been replaced. I seriously don't know where to begin. I wish the interwebs had a button you could press on blogs to deliver a taste of what you're reading. The cupcake is the perfect texture, not too light, not too dense and uber chocolatey. You can really taste the coconut with the flakes and extract and I like that it doesn't get lost in all the chocolate goodness. The buttercream is out of this world. The salt is very subtle, almost like an aftertaste to the caramel. I loved, loved, loved it. I can't wait to make it again. The combo of chocolate, coconut, and salted caramel is to die for. As if that wasn't enough, top it with more coconut, more caramel, and homemade chocolate syrup. Way, way better than anything store-bought. It should absolutely be illegal that this cupcake exists.
The folks at Hope Lodge loved them. One girl remarked they looked so good they should be in a magazine. Ah, someday. 😉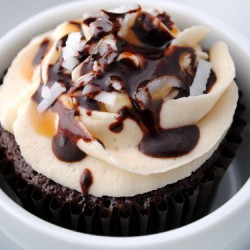 Chocolate Coconut Cupcakes with Salted Caramel Buttercream
Ingredients:
Chocolate Coconut Cupcakes
2 cups sugar
1 3/4 cups all-purpose flour
3/4 cup HERSHEY'S Cocoa
1 1/2 tsp. baking powder
1 1/2 tsp. baking soda
1 tsp. salt
2 eggs
1 cup milk
1/2 cup vegetable oil
1 tsp. vanilla extract
1 tsp. coconut extract
1 cup shredded coconut
1 cup boiling water
Salted Caramel Buttercream
2 sticks unsalted butter, room temperature
2 tsp. pure vanilla extract
1 lb. confectioners' sugar
1/3 cup caramel topping, plus more for drizzling
1 tsp. salt
Chocolate Syrup
1/4 cup unsweetened cocoa powder
1/4 cup granulated sugar
1/4 cup cold water
a pinch of salt
a splash of vanilla extract
Directions:
1. For the cupcakes, heat oven to 350°F.
2. Stir together sugar, flour, cocoa, baking powder, baking soda, and salt in large bowl. Add eggs, milk, oil, vanilla, and coconut extract; beat on medium speed of mixer 2 minutes. Stir in boiling water (batter will be thin). Gently fold in shredded coconut.
3. Line muffin cups (2-1/2 inches in diameter) with paper bake cups. Fill cups 3/4 full with batter. Bake 22 to 25 minutes.
4. For the buttercream, cream the butter in the bowl of an electric or stand mixer. Add the vanilla extract, salt, and caramel syrup and combine well.
5. Begin adding in the sugar and mixing thoroughly after each addition. After all of the sugar has been added and mixed thoroughly, give it a taste and decide if you want to add in more caramel syrup. For thicker frosting you can gradually add in a little more sugar.
6. For the chocolate syrup, in a small saucepan, whisk together sugar and cocoa powder until most of the lumps are gone. Add water and salt and cook over medium heat, stirring frequently. Bring to a boil and cook for a few minutes, until thickened, continuing to stir frequently. Remove from heat and let cool for 5 minutes, then add vanilla extract. Store in air tight container in the fridge.