If you're a coffee lover, you'll love these Mocha Toffee Chocolate Cookies! Soft, chewy, chocolatey cookies sprinkled with mini chocolate chips and toffee bits and a taste of espresso. The espresso is really strong initially and gets more subdued the older the cookie. I loved the contrast between the chewy cookie and the crunchy toffee bits.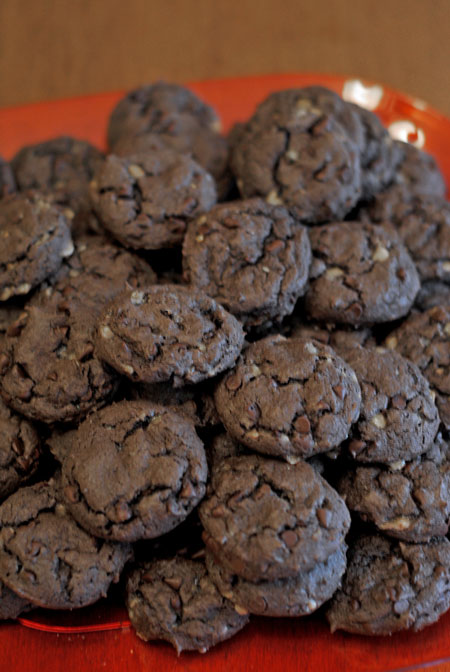 So, how's it taste?
The texture of this cookie is perfection. I'm a big, big fan of chewy cookies and thanks to a cake mix, this one stays chewy and delicious for several days.  You could sub instant coffee granules for the espresso if you don't want it as strong, but you probably wouldn't be able to detect the coffee flavor after a few days. You could also leave it out altogether for a great chocolate toffee cookie, too. The batter for this one is extremely sticky, so I highly recommend using a cookie scoop that has the mechanism to push out the dough onto your cookie sheet or be prepared to get really messy! But that's part of the cookie-making fun, right? 😉
Other goodies from Cookie Baking Day 2014:
Chocolate-Covered Cherry Cookies
M&M Cookies
White Chip Cran-Pistachio Cookies
Glazed Hermit Cookies
Cream Cheese Spritz Cookies
Mint Chocolate Chip Cookies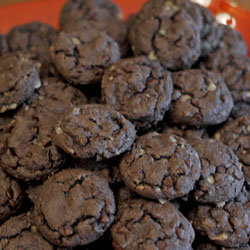 Yield: almost 5 dozen
Prep Time: 55 min
Cook Time: 1 hr
Total Time: 1 hr 55 min
Mocha Toffee Chocolate Cookies
Ingredients:
4 tsp. instant espresso powder (dry)
2 tsp. vanilla extract
1 box Betty Crocker™ SuperMoist™ butter recipe chocolate cake mix
1/3 cup butter, softened
2 eggs
1 cup miniature semisweet chocolate chips
1/2 cup toffee bits
Directions:
1. Heat oven to 350F. In small bowl, stir together coffee and vanilla until coffee is dissolved. In large bowl, mix cake mix, coffee mixture, butter, and eggs with spoon until soft dough forms. Stir in chocolate chips and toffee bits.
2. On ungreased cookie sheets, drop dough by rounded teaspoonfuls 2 inches apart. Dough will be extremely sticky.
3. Bake 7 to 10 minutes or until surface appears dry. Cool 1 minute; remove from cookie sheets to cooling rack. Cool completely. Store covered.