I know what you're thinking. Why on earth do you, a chocoholic, have a plain, vanilla cupcake on your blog? Well, it's simple, I bake for other people. If it's a special occasion, I like to do some digging and find out what that person likes. A coworker of mine recently left to take another job and I couldn't let her go without saying goodbye the only way I know how, with cupcakes of course! Her favorite happened to be white on white. Say what?! So I searched the interwebs and found these Vanilla Bean Cupcakes and hoped they'd work. Not exactly your boring white cupcake, but still something she would enjoy.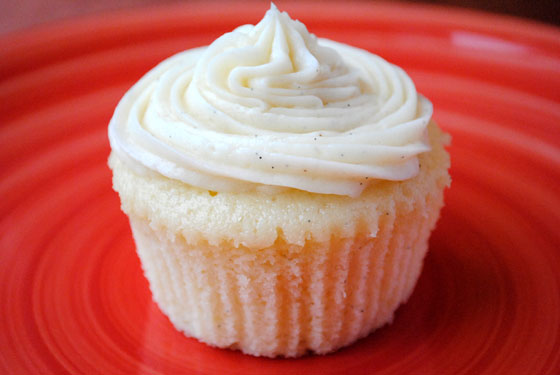 So, how's it taste?
It's hard for me to describe the taste of these since I'm not a fan of white cake or vanilla buttercream. I frantically called Shannon over at Bake.Frost.Repeat. because I just knew I had messed up the buttercream. Luckily I hadn't! My coworker loved it! She jokingly asked me if I had plans in September (when she's getting married). I heard other comments that this was the type of cupcake they'd buy in a professional bakery. So I'd conclude it was a hit! The cupcake is so pretty in its simplicity and I love the specks of vanilla in the cake and buttercream. I actually liked this white on white cupcake. I scraped off the frosting on one and ate the cake by itself. It's a very different consistency than most cupcakes. It's very dense, almost like a pound cake…which is why it tastes fabulous on its own as well.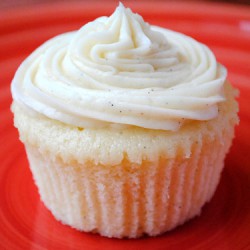 Vanilla Bean Cupcakes
Ingredients:
Cupcakes
3 cups cake flour
1 tbsp. baking powder
1/2 tsp. salt
1 vanilla bean, split lengthwise (I used vanilla bean paste instead)
16 tbsp. unsalted butter, at room temperature
2 cups sugar
5 large eggs, at room temperature
1 1/4 cups buttermilk, at room temperature
1 tbsp. vanilla extract
Vanilla buttercream
20 tbsp. (2 1/2 sticks) unsalted butter, softened
2 1/2 cups confectioners' sugar, sifted
1/8 tsp. salt
2 tsp. vanilla extract (I used vanilla bean paste)
2 tbsp. heavy cream
Directions:
1. Preheat the oven to 350F. Line two cupcake pans with paper liners. Set aside.
2. In a medium mixing bowl, combine the cake flour, baking powder and salt. Whisk together and set aside. Add the butter to the bowl of an electric mixer fitted with the paddle attachment. Scrape the vanilla bean seeds into the bowl of the mixer with the butter and discard the pod (or reserve for another use). Beat on medium-high speed for 3 minutes, until light and creamy in color. Scrape down the sides of the bowl and beat for one more minute.
3. Add the sugar to the butter mixture, 1/4 cup at a time, beating 1 minute after each addition. Mix in the eggs one at a time until incorporated. Scrape down the sides of the bowl after each addition. Combine the buttermilk and the vanilla extract in a liquid measuring cup. With the mixer on low speed, add the dry ingredients alternately with the wet ingredients, beginning and ending with the dry ingredients and mixing just until incorporated. Scrape down the sides of the bowl and mix for 15 seconds longer.
4. Divide the batter between the prepared paper liners, filling each about 2/3 of the way full (you will likely have batter left over after filling 24 wells). Bake 18-22 minutes, or until a toothpick inserted in the center comes out clean. Allow to cool in the pans 5-10 minutes, then transfer to a cooling rack to cool completely. Replace paper liners and bake remaining batter if desired. Frost cooled cupcakes as desired.
5. For the buttercream: In a stand mixer fitted with the whisk attachment, beat butter at medium-high speed until smooth, about 20 seconds. Add confectioners' sugar and salt; beat at medium-low speed until most of the sugar is moistened, about 45 seconds. Scrape down the bowl and beat at medium speed until mixture is fully combined, about 15 seconds. Scrape bowl, add vanilla and heavy cream, and beat at medium speed until incorporated, about 10 seconds. Then increase the speed to medium-high and beat until light and fluffy, about 4 minutes, scraping down bowl once or twice.