Saturday was a rainy, dreary day here in Nashville. Perfect for baking, if you ask me! This cake is long overdue for an appearance on the blog. Punch Bowl Cake has a lot of history in my family. My mom would make this cake for my Papa's birthday and we'd have it for holidays, too. I've made it a few times as an adult and it brings back so many memories. It also helps that it's quite delicious with not much work to put it together.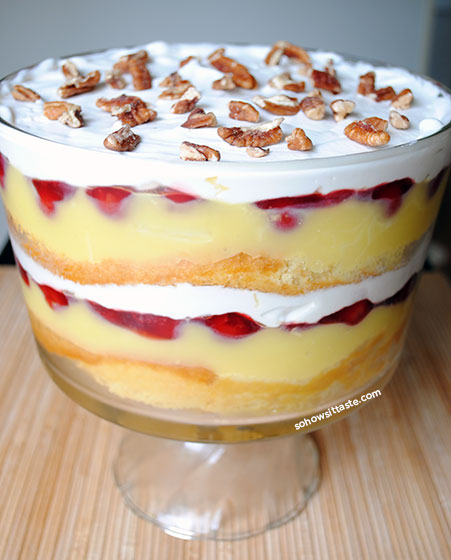 So, how's it taste?
It's quite refreshing actually. It's very similar to a pudding cake and since it's got pudding and whipped topping, it seems a bit lighter than a cake with heavy icing. It's yellow cake layered with vanilla pudding, pineapple, cherry pie filling, and whipped topping. Super simple. Now you may be thinking, "Um, Leah, that's not a punch bowl." Well, you'd be correct. I don't own a punch bowl and the perfect one for this cake has eluded me so far. My mom swears she gave me hers, but I swear I don't have it, so now it's the big punch bowl mystery. I do, however, own a trifle bowl. But I refuse to call this a Trifle Bowl Cake. It just wouldn't be right.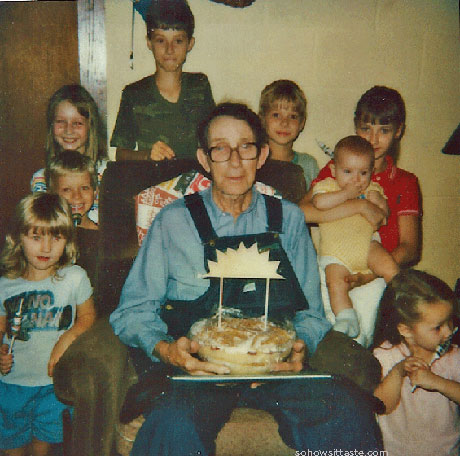 My, my how time flies. That's my Papa and 8 of his 10 grandchildren on his birthday back in 1984. That's the famous Punch Bowl Cake in his lap, complete with a homemade Happy Birthday sign held up by straws from yours truly! Clockwise from the left is Joanna, John, me, Jason, Jeremy, Jennifer, Josh, and Julie. Hmm, someone got left out of the J names! I swear this just happened yesterday. Funny thing is that baby in the picture is almost 30. Seriously, where does time go? I sure do miss those Punch Bowl Cake birthdays and my Papa. The only man I know who could rock some overalls.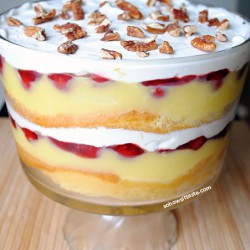 Punch Bowl Cake
So, How's It Taste? original
Ingredients:
1 (16.5 oz.) box yellow cake mix (plus ingredients on box)
1 (5.1 oz.) box instant French Vanilla pudding (plus milk)
1 (8 oz.) can crushed pineapple in juice, drained
1 (21 oz.) can cherry pie filling
1 (8 oz.) tub whipped topping
nut topping, for garnish (pecans are ok)
Directions:
1. Prepare cake batter according to directions for two 8- or 9-inch cake pans. Bake & cool completely on wire rack.
2. Prepare the vanilla pudding according to the package directions. Store in fridge until ready to use.
3. Slice one cake layer in half using a large serrated knife. You won't use the other cake (freeze it to make this cake again another day).
4. Layer a punch bowl or trifle bowl with one layer of the sliced cake. You may have to trim the cake if using a trifle bowl.
5. Remove the prepared pudding from the fridge and mix in the crushed pineapple. Pour half of this mixture onto the cake and spread evenly with a spatula.
6. Dollop half of the can of cherry pie filling on top of the pudding layer.
7. Spread half of the whipped topping on top of the pie filling. Layer again with cake, pudding, pie filling, and end with whipped topping. Garnish with nut topping. Store in refrigerator.