I'm giggling as I type this post because I just finished reading an article where The Pioneer Woman talks about how to take good food photos. Yeah, about that. I promise I'm going to give you a decent food photo someday, but that day isn't today. I made these Butter Crunch Lemon Bars for a coworker's birthday last week. So you know what that means, no time for good shots in the daylight. Perhaps I should make a rule at work that all birthdays are celebrated on Mondays so I can get some good pics, lol! Not only did I not use my nice camera, but I sort of forgot about pictures all together. That is until we were in a meeting in our conference room and decided to bring the rest of the bars in because no one could go 10 minutes without eating one. They were that good! So I grabbed my phone and snapped these horrible pics…ah, the life of a food blogger.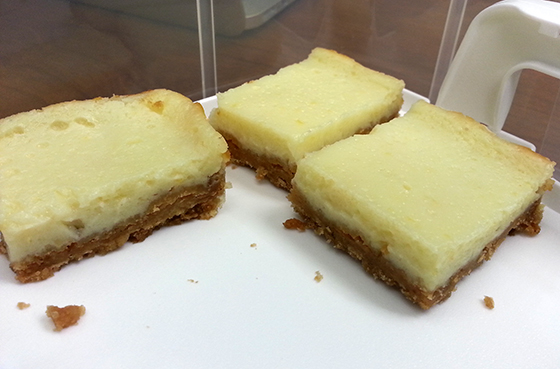 So, how's it taste?
We gobbled these up so fast! I was really nervous that they would be a bomb and double those nerves because it was my coworker's 40th birthday! Yeah, I live on the edge making desserts for folks that I've never tried before. Combine that with my crap pictures and I'm such a blogging rebel! What made me nervous is the unique ingredient in the crust. It's nutmeg, which sounds super weird, but once you smell it baking, you realize how well it's going to go with fresh lemon. The filling is similar to a cheesecake, but cottage cheese is used instead of cream cheese to make it lighter. I was skeptical about that, too, but it totally worked! Just make sure you process the cottage cheese so no lumps remain. No one will ever know it's cottage cheese.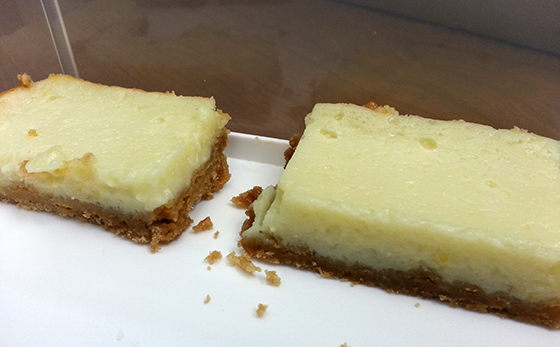 The finished product was fantastic. Fresh out of the fridge, the crust is a little too hard and the nutmeg is overpowering, but when they come to room temperature, they completely change. The nutmeg mellows out, the crust is perfect, and the filling is light and lemony. I only wish I had remembered to dust them with powdered sugar, although they really don't need it. The  recipe makes 12 servings, but I cut them into smaller squares to make 24. Delicious and figure-friendly, so go ahead and eat two or three in one sitting!
I made this birthday poster for my coworker, too, and had our office sign it. Pinterest win!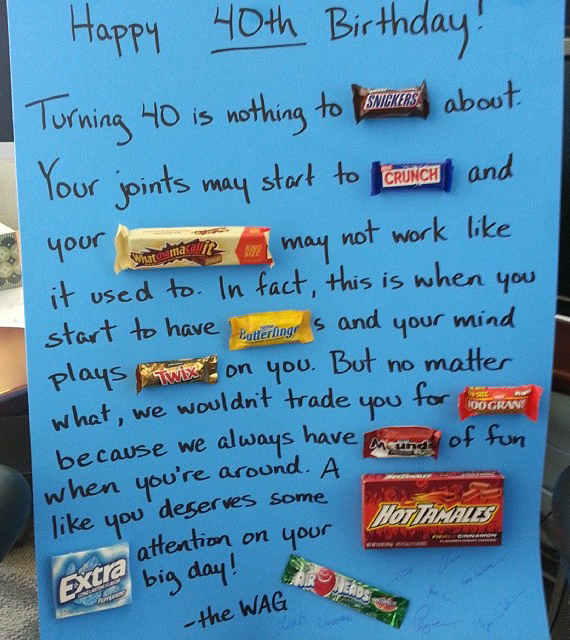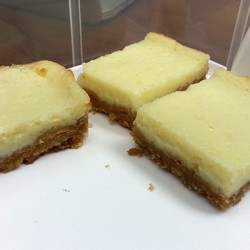 Butter Crunch Lemon Bars
Ingredients:
Crust
1/3 cup butter, softened
1/4 cup packed dark brown sugar
1/4 tsp. salt
1/4 tsp. ground nutmeg
1 cup all-purpose flour
Cooking spray
Filling
1 cup 1% low-fat cottage cheese
1 cup granulated sugar
2 tbsp. all-purpose flour
1 tbsp. grated lemon rind
3 1/2 tbsp. fresh lemon juice
1/4 tsp. baking powder
1 large egg
1 large egg white
Powdered sugar (optional)
Directions:
1. Preheat oven to 350F.
2. To prepare crust, place first 4 ingredients in a large bowl, and beat with a mixer at medium speed until smooth. Lightly spoon 1 cup flour into a dry measuring cup, and level with a knife. Add flour to butter mixture, and beat at low speed until well blended. Press crust into bottom of an 8-inch square metal baking pan coated with cooking spray. Bake for 20 minutes.
3. To prepare filling, place cottage cheese in a food processor; process 2 minutes or until smooth, scraping sides of bowl once. Add granulated sugar and next 6 ingredients (through egg white), and process until well blended. Pour filling over crust.
4. Bake for 25 minutes or until set (the edges will get lightly browned). Cool. Cover and chill 8 hours. Sprinkle with powdered sugar before serving, if desired.
per serving: 187 calories, 6g fat, 3.5g protein, 31g carbs, 2.1g fiber