You may have heard of the Irish Car Bomb cocktail. It's a concoction I've had once on St. Patrick's Day and I don't care if I ever drink it again. Put Bailey's Irish Cream in a shot glass, float whiskey (usually Jameson Irish Whiskey) on the top, and drop the entire shot into a glass of Guinness Stout. Chug quickly or the drink curdles. Now don't you want to run out and try one? Lucky for you, there's a better way to experience this cocktail and there's no danger of curdling involved. Let me present you with the Irish Car Bomb Chocolate Cupcake. This is probably by far one of my favorites. If you've got one of those bucket lists, eating one of these should be on it.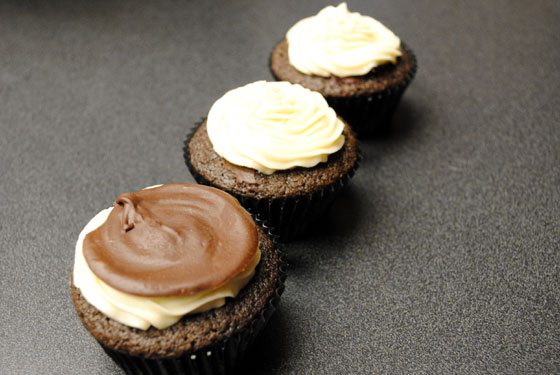 So, how's it taste?
It's so indulgent and so chocolatey, Irish creamy delicious. Yes, I had to make up words to describe it. I've had this cupcake before when my friend and fellow foodie, Shannon from Bake. Frost. Repeat., made them. She didn't include the ganache in hers, which you can leave out as well, but I highly suggest including it. I was thrilled when the two of us decided to team up and make this recipe again for a coworker's 30th birthday. We included the ganache this time and holy cow! They were the most sinful dessert I have ever tasted. The recipe we followed used Bailey's in the ganache and it was delicious, but for a true Irish Car Bomb, I'd like to try these with a whiskey ganache as a another recipe suggests.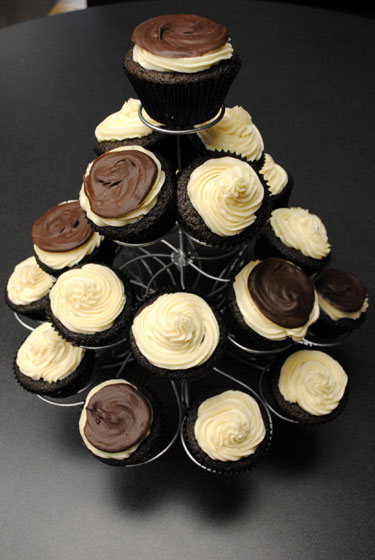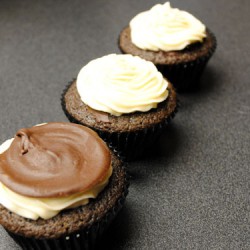 Irish Car Bomb Chocolate Cupcakes
Ingredients:
Guinness cupcakes:
1 cup stout (Guinness)
16 tbsp. unsalted butter
3/4 cup unsweetened cocoa powder
2 cups all-purpose flour
2 cups sugar
1 1/2 tsp. baking soda
3/4 tsp. salt
2 large eggs
2/3 cup sour cream
Whiskey (or Bailey's) ganache filling:
8 oz. bittersweet chocolate, finely chopped
2/3 cup heavy cream
2 tbsp. butter, at room temperature
1-2 tsp. whiskey or Bailey's (optional)
Bailey's buttercream frosting:
1 stick (1/2 cup) unsalted butter, at room temperature
3-4 cups confectioners' sugar, sifted
3-4 tbsp. Bailey's Irish Cream
*Note: The Guinness gets mostly baked out in the cupcakes, but if you're serving these for people who don't drink, you'll want to leave out the whiskey or Bailey's from the ganache and the Bailey's from the frosting. You can use milk for the frosting instead.
Directions:
1. To make the cupcakes, preheat the oven to 350° F. Line two cupcake pans with paper liners. Combine the stout and butter in a medium saucepan over medium heat. Add the cocoa powder and whisk until smooth. Remove from the heat and allow to cool slightly.
2. In a large mixing bowl, combine the flour, sugar, baking soda, and salt. In the bowl of an electric mixer fitted with the paddle attachment, beat together the eggs and sour cream to blend. Add the stout-butter mixture and beat just to combine. Mix in the dry ingredients on low speed just until incorporated. Divide the batter evenly between the cupcake liners, filling them about 2/3 to 3/4 full. Bake until a toothpick inserted in the center comes out clean, about 17 minutes. Allow to cool in the pan for 5-10 minutes, then transfer to a wire rack to cool completely.
3. To make the ganache filling, place the chocolate in a heatproof bowl. Heat the cream in a small saucepan until simmering, then pour it over the chocolate. Let sit for one minute and then whisk until smooth. If the chocolate is not completely melted, place the bowl over a double boiler or give it a very short burst in the microwave (15-20 seconds). Add the butter and Bailey's (or whiskey) and stir until combined.
4. Set aside to let the ganache cool until it is thick enough to be piped (or you can spoon the mixture into the cupcakes). (You can use the refrigerator to speed the cooling process, but be sure to stir every 10 minutes or so to ensure even cooling.) Meanwhile, using your 1-inch round cookie cutter or an apple corer, cut the centers out of the cooled cupcakes. You want to go most of the way down the cupcake but not cut through the bottom; aim for 2/3 of the way. Once the ganache has reached the correct consistency, transfer it to a piping bag fitted with a wide tip and pipe it into the cupcakes.
5. To make the frosting, place the butter in the bowl of a stand mixer fitted with the paddle attachment. Beat on medium-high speed until light and fluffy, about 2-3 minutes. Gradually add the powdered sugar until it is all incorporated. Mix in the Bailey's until smooth. Add more if necessary until the frosting has reached a good consistency for piping or spreading. Frost the cupcakes as desired.