If you follow me on Twitter or happen to know me in real life, you are more than well aware that I have taken the plunge into grown-up land with new furniture. I'm happy to report that my living space no longer looks like leftovers from a frat house. Yes, my furniture was that old and grubby…but oh so comfy! I finally upgraded into becoming an adult. I've got a sofa with no slip cover, a matching chair, and a brand new dining room table. The old table wasn't so bad, but only seated four and I wanted to feed more friends in one sitting. Once all my new furniture was in place, it was time to have a dinner party!
This may seem quite overwhelming for most folks, but with a bit of planning and working ahead, your night will go so smoothly, you'll feel like someone else did the work. That's where I come in. Ok, not literally, I won't be showing up at your door. I've picked out a spectacular Spring menu (mostly thanks to that Stewart lady) where you can do so much ahead of time, all you'll need to do the night of your party is boil water and pour the wine!
First, don't fret over every detail. My dinner table may look fancy, but when you break it down, it was super easy. I wanted my guests to feel at home, but special at the same time. A few small touches did the trick. I already had plates for four, and instead of buying a whole new round of dishes, I bought a few pieces that coordinated with my existing. I had the yellow plates and found those cute polka dot plates at Pier 1 on clearance. (I bought these recently, so if you hurry they may have more!)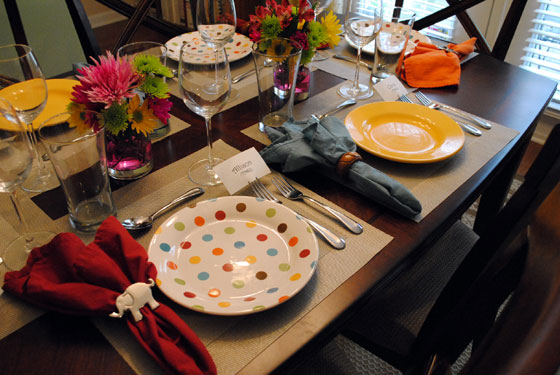 Second, I thought a nice touch would be real napkins. You know the cloth kind. I was torturing myself over matching and then decided to get whimsical and have fun with it. Actually that came about because they only had two napkins on sale, not the six I needed. I bought the two red napkins (on sale for 28 cents each!), two orange napkins, and two blue napkins, pulling from the colors in the plates, all at Pier 1. I already had two sets of napkin rings, so with three napkin colors, I only need two more "fun" napkin rings to stay with my whimsical theme. I found two orange beaded napkin rings for 50% off at Pier 1. That place sure has some good deals.
Third, I bought some flowers for the table. I purchased a small bouquet of brightly-colored geraniums at Publix. Those "vases" are on the rocks glasses! I wanted to keep the flowers low so we could all see each other. One kind of the flowers was a deep magenta and they ended up coloring the water for another added touch of color. Something I didn't think about, but you could color your water yourself with some food coloring. One accident bonus, I ended up getting the flowers for free! Did you know if an item rings up incorrectly at Publix, that item is free? I had no idea. Those flowers rang up a measly 99 cents more than the stated price and to my surprise instead of taking that off, the entire bunch was free. So watch those registers!
My last touch was the place cards. I wanted something fun, but all the ones I found were huge and wouldn't fit on my table. So I finally stumbled through the interwebs and found the cute idea of putting a place card through the tines of the fork at each setting. I bought a packet of speckled business cards at Office Depot and simply printed each person's name with a script design below it. Ta da!
Now on to the good part, the food! This menu is so easy. Pretty much everything can be prepared ahead of time, leaving you at the dinner table with your guests and not sweating over the stove in the kitchen. Stay tuned this week as I'll post the recipe for each portion of our dinner and include tips on early preparation.
Spring Dinner Party Menu:
Spring Salad with Fresh Mozzarella and House Dressing
Bread Machine Dinner Rolls*
Turkey and Pancetta Meatballs
Pasta with Mint Pesto and Fava Beans
Tiramisu Ice Cream
Wine of your choice (I served Kim Crawford Marlborough Sauvignon Blanc)
*Can be made days ahead of time and frozen. Before serving, heat for 10-15 seconds on the defrost setting of your microwave. May need more time depending on how many rolls you're heating.