Aren't these Red Velvet Brownies with Cream Cheese Frosting the cutest Valentine's eats?! They came to be a few weekends ago when Shannon from Bake.Frost.Repeat. came to visit. We plan weekends around baking, of course! Just wait until you see what else we baked. 🙂 We wanted something fun for Valentine's day and after consulting Pinterest and Google, decided on brownies. The recipe we picked used white chocolate buttercream, but Shannon and I are both big believers in cream cheese frosting belonging with red velvet. Topped with mini heart-shaped sprinkes, they are just the cutest sweet treats!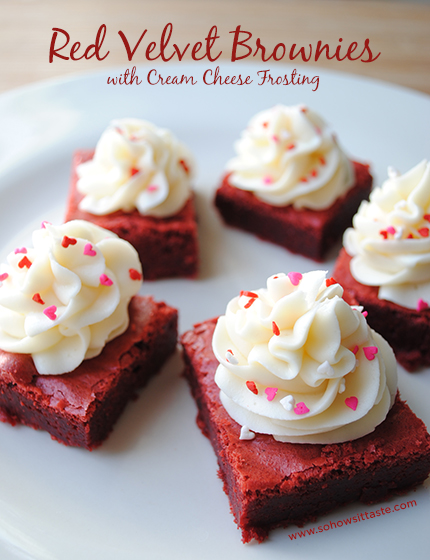 So, how's it taste?
The taste of the brownies were spot on. Fudgy and chocolatey and very good. The texture was a bit more crisp on the top and edges though. The top sank a bit when baking and created this crust that cracked and flaked off when I cut the brownies. Luckily our plans to add cream cheese frosting hid those imperfections. Don't shoot me for this, but a boxed brownie mix would work just fine as well I think or I may try using my Mexican Brownies recipe without the cinnamon and cayenne. The cream cheese frosting is the bee's knees! Sometimes cream cheese frosting can get oddly tangy, but this one is perfect. Creamy, sweet, and heavenly on top of a brownie. Add cute sprinkles and ta da!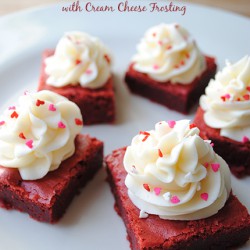 Red Velvet Brownies with Cream Cheese Frosting
Ingredients:
Brownies
1/2 cup butter, at room temperature
1 1/2 cups sugar
2 eggs
2 tsp. vanilla
3 tbsp. cocoa powder
1 tbsp. liquid red food coloring
1 1/4 cups all-purpose flour
1/4 tsp. salt
Frosting
4 tbsp. cream cheese, room temperature
4 tbsp. butter, room temperature
splash of vanilla
2 cups powdered sugar
splash milk, if needed to thin consistency
sprinkles, optional
Directions:
1. Preheat oven to 350F. Spray an 8x8 pan with cooking spray or use butter to grease.
2. In a stand mixer fitted with the paddle attachment, cream the butter and sugar until fluffy. Add the eggs one at a time. Add the vanilla, cocoa powder, and food coloring. If your batter isn't red enough at this point, add more until desired color is reached.
3. Add the flour and salt, mixing just until combined.
4. Spread mixture into pan. Bake for 25-35 minutes or until a toothpick inserted into the center comes out clean. Let cool completely. Cut into squares and remove from pan.
5. For the frosting, beat cream cheese, butter, and vanilla in a stand mixer fitted with the paddle attachment. Add the powdered sugar and combine. If mixture is too thick to pipe, add a splash of milk to thin it out.
6. Pipe frosting onto cut squares of brownies. Add sprinkles, if desired.