How excited are you about a recipe that uses an ENTIRE JAR of Nutella! Got your attention, right?! These Oatella Cookies are a beautiful marriage between oatmeal cookies and Nutella. They are so much more than oatmeal meets chocolate-hazelnut goodness though. They may not look too enticing, but they hit you in all the senses in one bite. You've got oatmeal, Nutella, then a hint of cinnamon, and a salty aftertaste. The cookies spread when baking, so you get a nice crispy outside and a thin, chewy center. I love everything about these cookies and am so happy they turned out fabulously because today I'm celebrating FIVE YEARS of blogging! Happy 5th blogiversary to So, How's It Taste!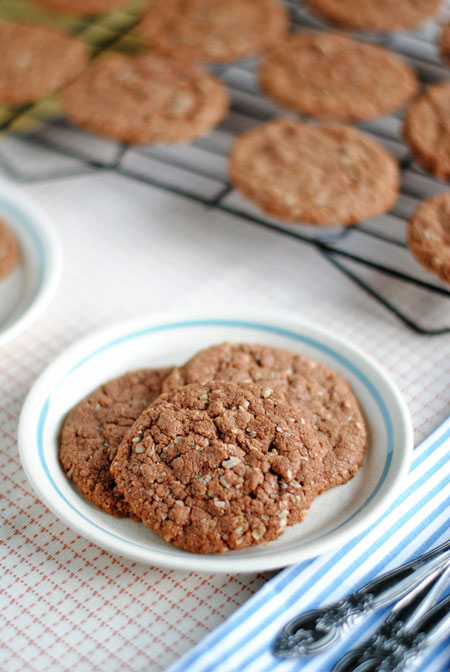 So, how's it taste?
Clearly I loved these cookies. Anytime I have trouble putting one down, that's a good sign. They're heavenly right out of the oven and I didn't care if they burned my mouth. Once they cool, they get a little crispier, yet still keep a chewy inside. I love me some chewy cookies! They remind me of my Unbaked Fudge Cookies, almost like they're distance cousins. I was curious how the cinnamon would turn out with the hazelnut in the Nutella. I thought they may compete with each other, but they are such a lovely combination.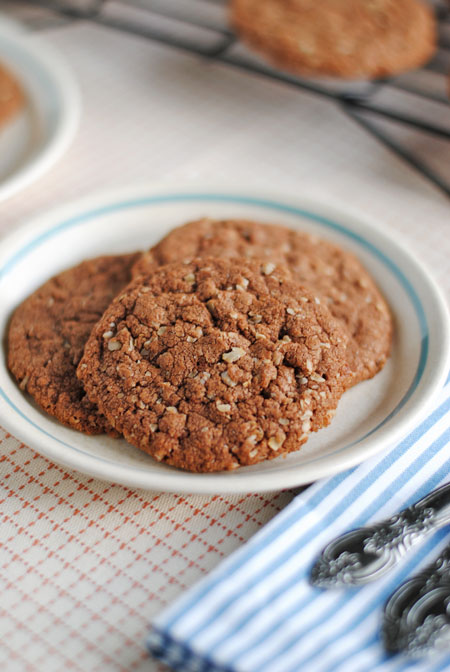 What really surprised me was the salty aftertaste. The recipe calls for kosher salt, which is always a bit saltier to me, and it seems like a lot of it. If that salted flavor isn't for you, reduce the amount. I adored it though. Nutella is crazy sweet and that taste of salt after balances everything out. All that's left is to grab a tall glass of cold milk and forget about eating dinner. These cookies are a perfect substitution I think. 😉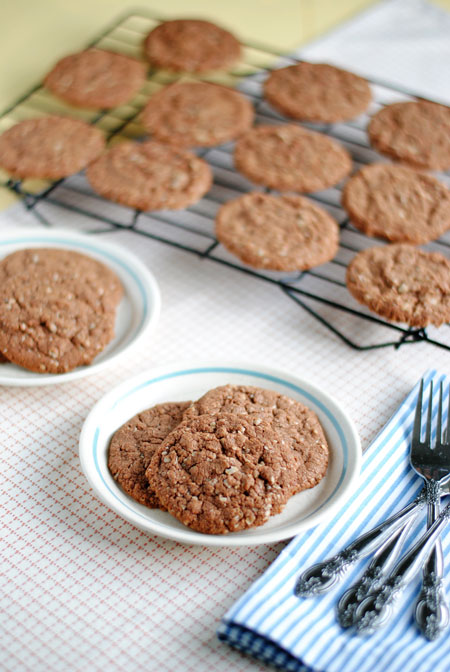 I tell ya, five years of blogging goes by crazy fast. When I started this blog five years ago, I had no idea how much it would grow and how much work it would be. There are a lot of ups and downs with blogging, too. I've had several moments of thinking that it might be time to stop and call it a day. It gets really frustrating when you catch yourself playing the comparison game with other bloggers. Lucky for me, my moments of enjoying being a blogger far outweigh those times when I start thinking too hard about it. At the end of the day it all comes down to really loving talking about food.
I love sharing recipes with readers and being able to honestly tell what I liked and what I didn't like about a recipe. I love being in this world of food bloggers and reading about their lives and what they're doing in the kitchen. Food has always been an outlet for friendship and to get to share that on the web is just amazing. Technology…what a thing, huh? It's been so fun connecting with fellow food bloggers that live across the states and even across the globe from me. I'm so thankful that people actually stop by and read my little space on the web. Thanks for being part of my love for food for the past five years and thanks for being there when the frustrations kick in. Your comments really put a smile on my face. I can't wait to see what the next five years bring! Now let's eat some cookies!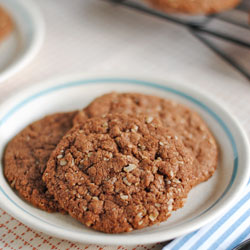 Yield: 60 cookies
Total Time: 1 hr
Oatella Cookies
Ingredients:
1 3/4 cups all-purpose flour
1 tsp. kosher salt
1/2 tsp. ground cinnamon
1/4 tsp. baking soda
1 cup vegetable shortening
1 cup granulated sugar
3/4 cup packed dark brown sugar
2 large eggs
1 (13 oz.) jar Nutella (yes, entire jar!)
2 cups rolled oats
Directions:
1. Preheat the oven to 375° and line 2 large baking sheets with parchment paper. In a medium bowl, whisk the flour with the salt, cinnamon and baking soda. In a stand mixer fitted with the paddle, beat the shortening with both sugars at medium speed until light and fluffy, about 2 minutes. Beat in the eggs 1 at a time, scraping down the side of the bowl. Add the Nutella and beat until smooth. Reduce the speed to low and beat in the dry ingredients until just incorporated, then beat in the oats.
2. Scoop 1-tablespoon* mounds of dough 2 inches apart on the prepared baking sheets. Bake for 8 to 10 minutes, until the edges are lightly browned and the cookies are just set; shift the pans from front to back and top to bottom halfway through baking. Immediately transfer the cookies from the pan to racks to cool. Repeat with the remaining dough.
*Note: I used a 1 1/2 tablespoon scoop and got 46 cookies.