It's officially Fall, so you know that means it's time to bake with pumpkin! I spotted the Candy Corn M&M's recently and although I'm not crazy about candy corn, I am crazy about specialty flavors. I bought a bag and after brainstorming with Shannon from Family Bites, I thought I'd bake them into one of her dessert recipes! Candy corn…white chocolate…pumpkin… all those warm spices inside Pumpkin Squares with Candy Corn M&M's.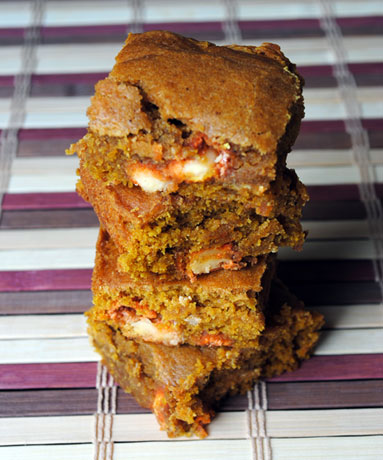 So, how's it taste?
Hello taste of Fall! I mean really these pumpkin squares capture it. The cake is super moist and full of pumpkin. I love, love, love pumpkin pie spice. Cinnamon, ginger, cloves, and nutmeg. Something about them together is warm and comforting. Now I love the combination of pumpkin and milk or dark chocolate, and when Shannon brought in her blondies, she made them with white chocolate. I had a feeling the Candy Corn M&M's would work well in this recipe because they also are white chocolate. I didn't like the Candy Corn M&M's by themselves. The taste is super sweet and the candy shell makes them have a taste like Skittles. But boy do they change in pumpkin squares! The cake isn't too sweet, so there's a nice balance. The big M&M's are just enough to dress up the bars and make them spectacular, yet you can taste the pumpkin and spices as well.
I undercooked mine just a little bit, but luckily they were still good, just more gooey. I baked mine for the minimum of 35 minutes and my toothpick came out clean, so I thought they were done. As they cooled, the middle sank so I knew they could've used a few more minutes. Watch your edges and test a few spots with toothpicks before taking yours out of the oven.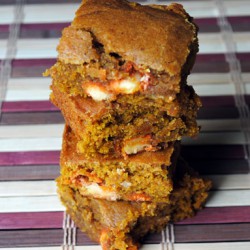 Pumpkin Squares with Candy Corn M&M's
Ingredients:
2 cups all-purpose flour
1 1/4 tsp. cinnamon
3/4 tsp. ginger
1/4 tsp. + a pinch* ground cloves
1/4 tsp. + a pinch* ground nutmeg
1 tsp. baking soda
3/4 tsp. salt
1 cup butter, room temperature
1 1/4 cup sugar
1 large egg
2 tsp. vanilla extract
1 cup canned pumpkin puree (not pumpkin pie mix)
1 bag Candy Corn M&M's
*A pinch is roughly 1/16 of a teaspoon.
Directions:
1. Preheat oven to 350F. Line bottom and sides of a 9x13-inch baking pan with foil, leaving an overhang on all sides. In a medium bowl, whisk together flour, cinnamon, ginger, cloves, nutmeg, baking soda, and salt; set aside.
2. With an electric mixer, cream butter and sugar on medium-high speed until smooth; beat in egg and vanilla until combined. Beat in pumpkin puree (mixture may appear curdled). Reduce speed to low, and mix in dry ingredients until just combined. Fold in M&M's.
3. Spread batter evenly in prepared pan. Bake until edges begin to pull away from sides of pan and a toothpick inserted in center comes out with just a few moist crumbs attached, 35 to 40 minutes. Cool completely in pan.
4. Lift cake from pan (using foil as an aid). Peel off foil, and cut into 24 squares.