You know I'm the calorie-counting queen (when I'm not splurging on desserts, of course), but I never really take it as far as using a sugar substitute when baking. There's plenty of low calorie desserts out there that taste great, with real sugar. See my Cinnamon Coffee Snack Cakes or my Dark Chocolate Souffles for proof. I couldn't resist trying this Four Flavor Sour Cream Pound Cake though. I made it several years ago, but that was in my more novice years in the kitchen and I overcooked it into a dry, disgusting state, so I thought it was time for another try.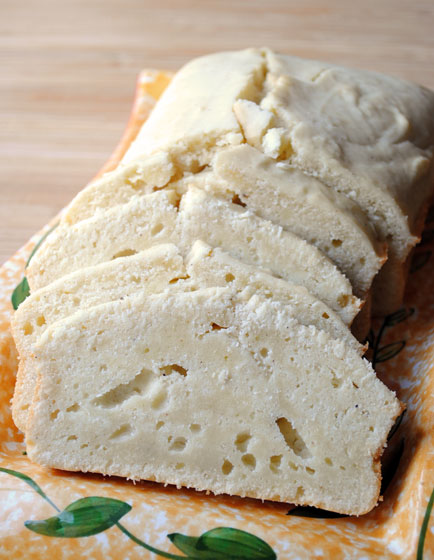 So, how's it taste?
I did a much better job  this time around! My kitchen skills have definitely improved over the years, lol! I still feel like the texture could've been a bit more moist, but I don't think I overbaked it, I'm going to blame the Splenda. I'm not knocking Splenda, I'm actually a huge fan. I drink it everyday in my hot or iced coffee, I sprinkle it over my corn flakes cereal, and there's always a pitcher of tea in my fridge sweetened with it. I love the stuff. I can't really taste it in any of those forms, but I sure could in this cake. It's not bad, but the taste is there. I instantly know it's "diet" cake and I really feel it hindered the pound cake from baking beautifully.
However, I loved the flavors of almond and lemon together! I couldn't taste the butter extract and vanilla extract is a helper, if you will, so I can't ever zero in on that one either. I never thought to mix almond and lemon extracts in the same recipe, but it really works. Two different tastes, but they complement each other well, especially in this pound cake.
While I liked the version with Splenda, I'd love to make this recipe again using all real sugar. I bet it would be fantastic!
Have you baked with Splenda or another sugar substitute before? How'd the recipe turn out?
Four Flavor Sour Cream Pound Cake
Ingredients:
all purpose flour, for dusting
2 1/4 cups cake flour
1 1/2 tsp. baking powder
1/2 tsp. grated nutmeg (optional)
1/4 tsp. salt
1/2 cup butter, softened
2/3 cup sugar substitute (I used Splenda)
7 tbsp. granulated sugar
1 tsp. vanilla extract
1 tsp. lemon extract
1 tsp. almond extract
1 tsp. butter extract
3 eggs, separated
1 cup reduced-fat sour cream
Directions:
1. Preheat oven to 350F.
2. Coat a 9x5-inch nonstick loaf pan with fat-free cooking spray and dust with all-purpose flour.
3. In a medium bowl, combine the cake flour, baking powder, nutmeg (if using), and salt.
4. In a large bowl, using an electric mixer on medium speed, beat the butter until light, about 30 seconds. Gradually beat in the sugar substitute and sugar until light and fluffy, about 3 minutes. Bea in the vanilla, lemon, almond, and butter extracts. Beat in the egg yolks one at a time, beating for 30 seconds after each addition.
5. Using a spoon, stir in the flour mixture alternately with the sour cream.
6. In a clean medium bowl, using clean beaters, beat the egg whites until soft peaks form, about 5 minutes. Gently fold the egg whites into the batter. Spoon into the prepared pan. Bake until a toothpick inserted in the center comes out clean, 55-65 minutes. Cool in the pan for 10 minutes. Invert onto a rack and cool completely.