I'm not sure if I've mentioned my love affair with pecans before. They are in my top five list of food weaknesses. If I'm using them in a recipe, you can count on me eating a fair amount of them while I'm baking. I've also been known to buy a bag of pecans just to munch on! So any dessert that's full of pecans is screaming my name. I jumped at the chance to make German Chocolate Pecan Pie Bars. It's a merging of those flavors you love in German Chocolate desserts and Pecan Pie!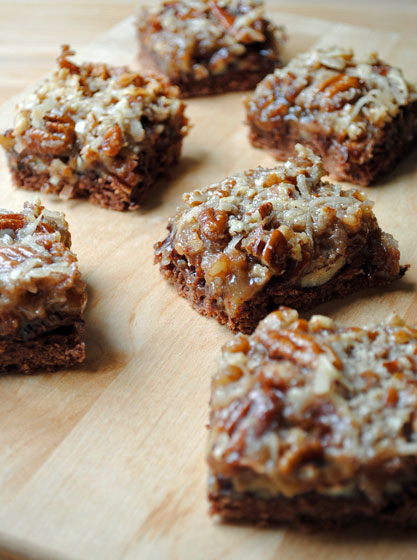 So, how's it taste?
Oh gosh where do I start? For a pecan-lover like me, they are amazing. These bars have so many pecans in each bite! I like how some are pecan halves and some are bits and pieces. Pecans everywhere! The combination of the ooey gooey middle with crunchy pecans and sweet coconut. It's that classic German chocolate trio. But wait, there's more! Underneath the ooey gooey is a layer of chocolate. One and half cups of chocolate morsels are melted over the crust. That's a lot of chocolate folks. The crust is similar to a chocolate shortbread, and I'm not a fan of shortbread, but it works here. The crust is kind of plain, but that's ok with all the richness happening on top of it.
I added an optional kick of whiskey to my bars. The recipe calls for bourbon, but I usually use Jack Daniel's Whiskey instead. Jack didn't really work in this recipe. It added kind of a funny taste, instead of a yummy whiskey accent. I think a nice bourbon would have worked much, much better…or leaving out the alcohol would be great too. The mixture does get a bit thin adding in the extra liquid. My bars were more gooier.
Baking the crust threw me off a little, too. When you put the crust mixture into the pan, it's loose and it doesn't come together. I thought no way would this bake into a crust. But all that butter throughout it makes it come together. Only in a small part on the edge did I have some powdery areas.
A million thumbs up to this recipe! The flavors are perfect for Fall baking and a nice twist on pecan pie.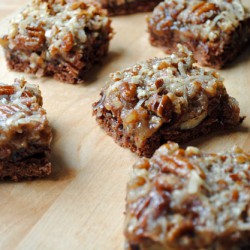 German Chocolate Pecan Pie Bars
Ingredients:
3 cups pecan halves and pieces
1 3/4 cups all-purpose flour
3/4 cup powdered sugar
3/4 cup cold butter, cubed
1/4 cup unsweetened cocoa
1 1/2 cups semisweet chocolate morsels
3/4 cup firmly packed brown sugar
3/4 cup light corn syrup
1/4 cup butter, melted
3 large eggs, lightly beaten
1 cup sweetened flaked coconut
1/4 cup bourbon, optional*
Directions:
1. Preheat oven to 350F. Bake pecans in a single layer in a shallow pan 8 to 10 minutes or until lightly toasted and fragrant, stirring halfway through.
2. Line bottom and sides of a 13x9-inch pan with heavy-duty aluminum foil, allowing 2 to 3 inches to extend over sides. Lightly grease foil.
3. Pulse flour and next 3 ingredients in a food processor 5 to 6 times or until mixture resembles coarse meal. Press mixture on bottom and 3/4 inch up sides of prepared pan.
4. Bake crust at 350F for 15 minutes. Remove from oven, and sprinkle chocolate morsels over crust. Cool completely on a wire rack (about 30 minutes).
5. Whisk together brown sugar and next 3 ingredients until smooth. Stir in coconut and toasted pecans, and spoon into prepared crust.
6. Bake at 350F for 25 to 30 minutes or until golden and set. Cool completely on a wire rack (about 1 hour). Chill 1 hour. Lift baked bars from pan, using foil sides as handles. Transfer to a cutting board; cut into bars.
*If adding the optional bourbon, whisk it into the brown sugar mixture in step 5.