Hello chocolate! Triple Chocolate Oreo Chunk Cookies are a must if you're a chocolate lover like me. It's a chocolate cookie with white chocolate, semisweet chocolate, and hunks of Oreos. I couldn't pick a favorite cookie this year because they all turned out so well, but this one would be a tough contender for the top spot.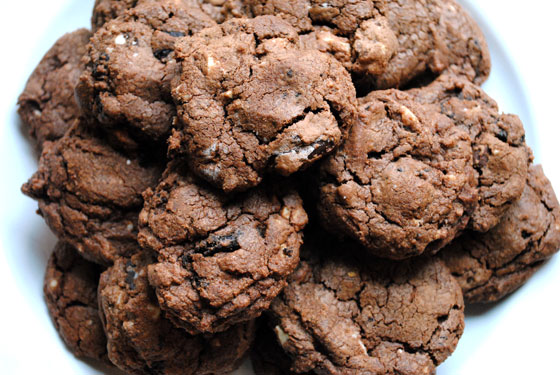 So, how's it taste?
It's rich and chocolatey and magnificent. I kept tasting these cookies all throughout cookie baking day. I like how each bite is different from the Oreo and semisweet and white, but it's all chocolate. They are slightly crisp on the outside and ooey gooey on the inside. I do wish I had chopped the Oreos into bigger pieces so you could really get a big bite of the cookies and cream. I used regular cocoa powder and they were pretty fabulous, so can you imagine how decadent they would be with the Dutch processed cocoa?! Oh there will be a next time making these.
Other goodies from Cookie Baking Day 2011:
Cream Cheese Spritz Cookies
Orange Pecan Gems
Iced Lemon Pistachio Cookies
Cranberry White Chip Oatmeal Cookies
Chocolate Malt Cookies
Banana Walnut Chocolate Chunk Cookies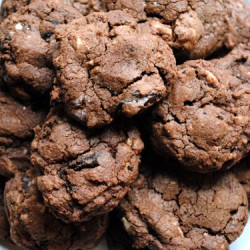 Triple Chocolate Oreo Chunk Cookies
Ingredients:
2 1/2 cups all-purpose flour
1 tsp. baking soda
1/4 tsp. salt
3/4 cup dutch processed cocoa
1 cup unsalted butter, room temperature
1 cup granulated sugar
1 cup light brown sugar
2 large eggs
2 tsp. vanilla extract
1 cup chopped white chocolate (or chips)
1 cup chopped semisweet chocolate (or chips)
1 cup chopped Oreos
Directions:
1. Preheat oven to 375F. Line a baking sheet with parchment paper.
2. In a medium bowl, whisk flour, baking soda, salt, and cocoa. Set aside.
3. Using an electric mixer, combine butter, sugar, and brown sugar together until smooth. Add eggs and vanilla extract. Mix until combined.
4. Add flour mixture to sugar mixture in increments, and mix until just combined. Fold in white chocolate, semisweet chocolate, and Oreos. Drop cookie dough by rounded tablespoons onto prepared baking sheet, about 2 inches apart.
5. Bake for 8-10 minutes. Remove from oven and let cool on baking sheet for 3-5 minutes. Transfer to a cooling rack and cool completely.