Try saying this three times fast! Chocolate Banana Butterscotch Cake. It's quite a mouthful for a dessert name, but I couldn't resist the combination of these three flavors. The original recipe doesn't include the chocolate. I really like banana and chocolate together, so I thought it would be a great addition to the butterscotch.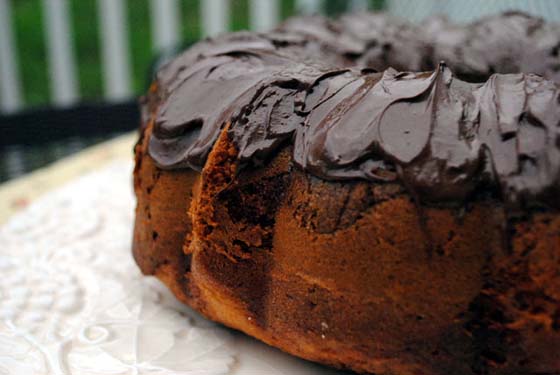 So, how's it taste?
I really, really enjoyed this cake. The bananas made it super moist. The butterscotch ended up taking a backseat that I could only taste just a tiny hint of it. The chocolate and banana became the stars of the show and tasted so good together in this cake. I was surprised the butterscotch didn't shine more, so next time I may leave out the chocolate, or leave out the butterscotch! This is one cake you can experiment with a little to find which combination suits you best. I did have a hard time with the glaze from the original recipe. So I used a different one that turned out great.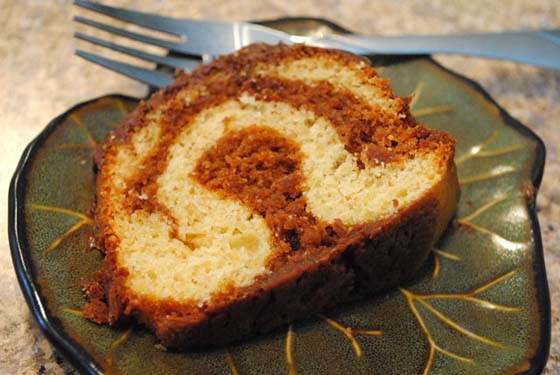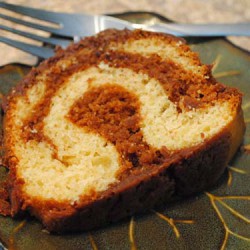 Chocolate Banana Butterscotch Cake
Ingredients:
Cake
1 1/3 cup butterscotch morsels (or semi-sweet or a mix)
1 (18.5 oz.) yellow cake mix
4 large eggs
3/4 cup (about 2 medium) mashed ripe bananas
1/2 cup vegetable oil
1/4 cup water
1/4 cup sugar
Glaze
1/3 cup powdered sugar
2 to 3 tbsp. milk
1/2 cup miniature semisweet chocolate chips (or butterscotch if you prefer)
Directions:
1. Preheat oven to 375. Grease 10-cup Bundt® pan or round tube pan.
2. Microwave 1 1/3 cup morsels in medium bowl for 1 minute. Stir. If necessary, microwave at additional 10-second intervals, stirring just until morsels are melted.
3. Combine cake mix, eggs, banana, oil, water, and sugar in mixer bowl. Mix on low speed until moistened. Beat on high speed for 2 minutes. Stir 2 cups of the batter into melted morsels. Alternately spoon batters into prepared pan.
4. Bake for 35 to 45 minutes or until a wooden toothpick inserted into the center comes out clean. Cool in pan for 15 minutes. Invert onto wire rack.
5. In small saucepan, combine powdered sugar, 2 tablespoons of milk and 1/2 cup chocolate chips. Cook over low heat until chocolate chips are melted and mixture is smooth, stirring constantly. Add enough milk for desired consistency. Slowly pour and spread glaze over warm cake. Cool 30 minutes or until completely cooled.