It's hard to believe after so many years of Cookie Baking Day, that we rarely bake peanut butter cookies. I think it's because I thought they'd be too time consuming with the rolling and fork-squishing (ha!). This year I was feeling nostalgic for all those classic favorites and guess what? Making Classic Peanut Butter Cookies was easy! Especially if you tag team like my mom and I do. I'm the scooper and roller, she's the fork-squisher.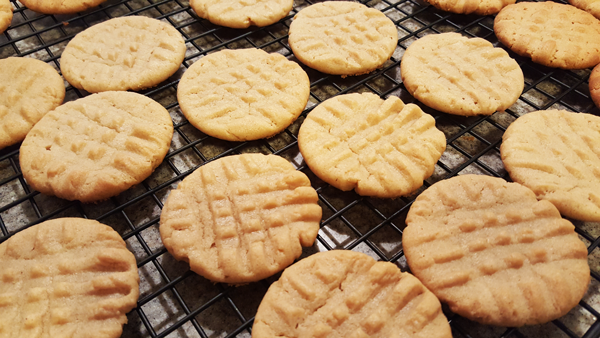 I love these cookies! I've never tried them with crunchy peanut butter, but I'd bet they'd work just as well. These are soft, but you can bake them a minute or two longer and they'll be crispy. Whatever your cookie texture preference, these are for you!
The tricky part with these cookies is that since they're light brown anyway, it's hard to tell when they're going from soft, to crispy, to burnt…so be careful! Also, if you're packing these with other cookies, you may want to put these in a separate container or baggie. I brought these to work with our other cookies and they made the cookies nearby taste like peanut butter, too.
Other goodies from Cookie Baking Day 2017:
Cream Cheese Spritz Cookies
Mint Chocolate Chip Cookies
M&M's Cookies
Tropical Chewies
Pumpkin Snickerdoodles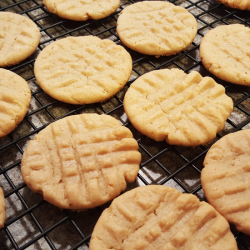 Yield: 30 cookies
Prep Time: 25 min
Total Time: 2 hr 25 min
Classic Peanut Butter Cookies
Ingredients:
1/2 cup granulated sugar
1/2 cup packed brown sugar
1/2 cup peanut butter (creamy or crunchy)
1/4 cup shortening
1/4 cup butter, softened
1 egg
1 1/4 cups all-purpose flour
3/4 tsp baking soda
1/2 tsp baking powder
1/4 tsp salt
Directions:
1. Mix sugars, peanut butter, shortening, butter, and egg in large bowl (or use your stand mixer). Stir in remaining ingredients. Cover and refrigerate* about 2 hours or until firm.
2. Heat oven to 375F.
3. Shape dough into 1 1/4-inch balls. Place about 3 inches apart on ungreased cookie sheet. Flatten in crisscross pattern with fork dipped into sugar.
4. Bake 9 to 10 minutes or until light golden brown. Cool 5 minutes; remove from cookie sheet. Cool on wire rack.
*Don't skip the chilling step or else your cookies will spread too much during baking.