I think it's safe to say there are two kinds of cookie lovers. You either go for the soft and chewy variety or crunchy and crispy. I am all the way soft and chewy. I don't care how chocolate-y or how delicious, if it's crisp throughout, I won't eat it. That's what happened with these Milky Way Red Velvet Cake Cookies. They are crispy and crunchy and just not my thing. However, mom loved these and so did a bunch of her coworkers. The few that I did eat were seriously packed with chocolate, but I couldn't get over the texture. So if you lean to the crispy cookie side, these are for you!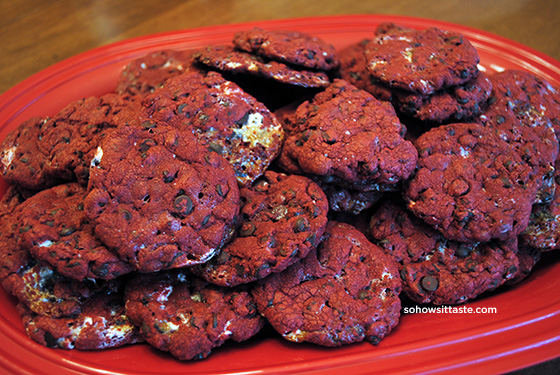 So, how's it taste?
These were my least favorite of cookie baking day. Some cookie has got to be last right? It's purely based on texture. Speaking of base, I was surprised how crispy they were since the base of this cookie is a red velvet cake mix. You gotta love that color though. Perfect for Christmas and they looked so great together with the green from our annual Cream Cheese Spritz cookies. They are full of chocolate, too. Chunky bites of Milky Way and mini chocolate chips are sprinkled throughout. We did end up with several cookies that looked like they had exploded from the positioning of the Milky Way. It's hard to control where they end up in each cookie and they really spread and melt while the cookies are baking. The caramel can get really sticky on those, too. I jokingly referred to them as the Walking Dead cookies (use your imagination), so maybe I'll whip up another batch of these for Halloween!
Other goodies from Cookie Baking Day 2013:
Cream Cheese Spritz Cookies
German Chocolate Cake Cookies
Dark Chocolate Walnut Oatmeal Cookies
Gooey Butter Cookies
Vanilla Orange Cranberry Cookies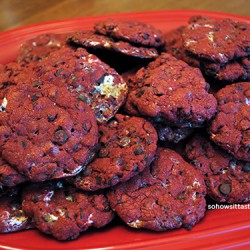 Milky Way Red Velvet Cake Cookies
Ingredients:
1 box red velvet cake mix (I use Duncan Hines)
1/2 cup unsalted butter, softened
1 large egg
2 tbsp. vegetable oil
4 full size Dark Milky Way bars, cut into chunks
1 1/2 cups mini semisweet chocolate chips
Directions:
1. Preheat oven to 350F.
2. Line baking sheets with parchment paper.
3. In the bowl of a mixer, combine cake mix, butter, egg, and oil. Add Milky Way chunks and chocolate chips.
4. Drop dough by tablespoonful onto prepared baking sheets, about 1 inch apart. Press each cookie down almost flat. Bake for 9-10 minutes, until red dough part is no longer shiny (candy pieces will be). Let cool on baking sheet for 5 minutes. Cool on a baking rack.