Occasionally a recipe comes along and you lose your mind. Three ingredients mixed together in these Dark Chocolate Blueberry Clusters and I went bonkers. I could not keep my hand out of the bowl and devoured this entire recipe in a matter of hours. I say hours instead of minutes because I did muster up just a teeny, tiny bit of self-control. Mostly due to having to save some to photograph. Thank goodness they're somewhat healthy or I'd be in bad shape, literally. If you've got a mean sweet tooth like I do, you're going to enjoy this treat and not feel a damn bit of guilt about it!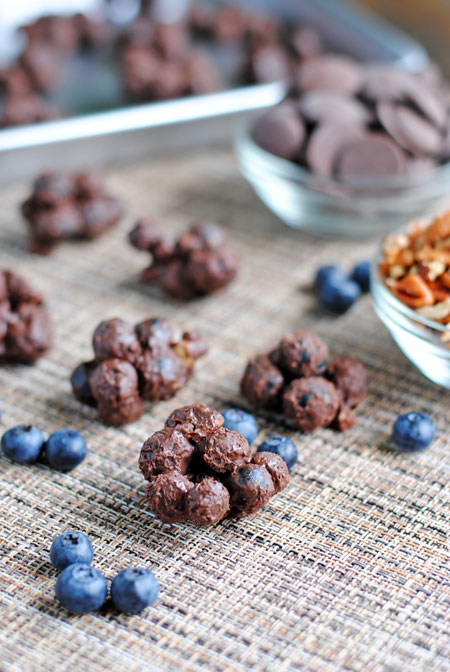 So, how's it taste?
Oh my word so good. I was popping these babies in my mouth right and left. They're good at room temperature, but magical out of the fridge. You bite into the creamy dark chocolate and then you hit a burst of those fresh berries! The little bit of pecan adds a nice crunch. The original recipe topped each cluster with some pecans, but I prefer stirring them in. You have to work quickly because the chocolate will start to set up. You can see in the pictures that I didn't completely dry my berries and the chocolate started to seize a tiny bit causing some of the clusters to not stick together. I ended up with all different sizes of clusters, which wasn't a problem for me!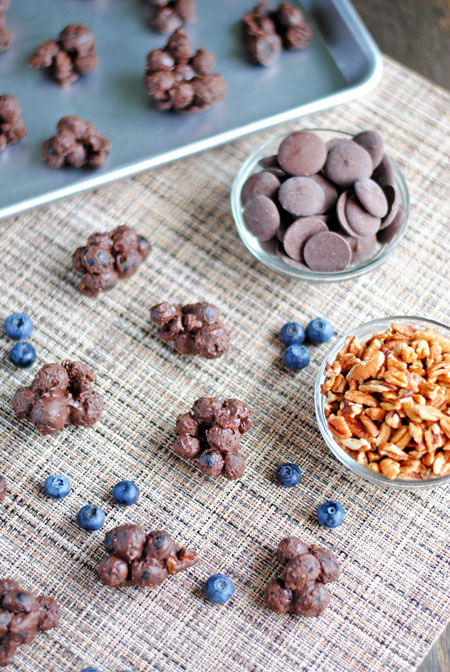 Store these in the fridge for a fantastic grab-n-go snack. I couldn't keep my paws off them, so they didn't last long in my house. Next time I think I'll triple the batch…or I'll just buy up all the blueberries at the grocery store and make vats and vats of these clusters!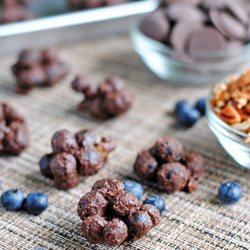 Prep Time: 10 min
Total Time: 30 min
Dark Chocolate Blueberry Clusters
Ingredients:
1 pint fresh blueberries
1 cup dark chocolate melting wafers (I used Ghirardelli)
1/4 cup chopped pecans
Directions:
1. Rinse blueberries in water and remove any stems. Thoroughly dry blueberries using a kitchen towel or paper towel. (Make sure they're really dry or any water left on them will cause your chocolate to seize.)
2. Line a large baking sheet with parchment or wax paper.
3. Place the wafers in a microwave-safe container. Microwave at 50% power or defrost setting for 30 seconds. Stir thoroughly. If not completely melted, continue to microwave at 15 second intervals and stir until smooth. (Alternatively, you can use the double boiler method.)
4. Add blueberries and pecans to melted chocolate. Work quickly to coat the berries and pecans. Scoop out clusters into desired size and place on prepared baking sheet. Refrigerate 30 minutes or until set. Store in refrigerator for about a week (if they last that long!).