I think I've confessed a few times before how I never read a recipe's directions until I go to make it. So was the case for this third cookie from baking day, the Crunchy Muncher Cookies. As I've got the mixer loaded and the ingredients keep going and going, I finally read that this recipe make NINE DOZEN COOKIES. Yep, one hundred and eight crunchy munchers. Boy, these better be good.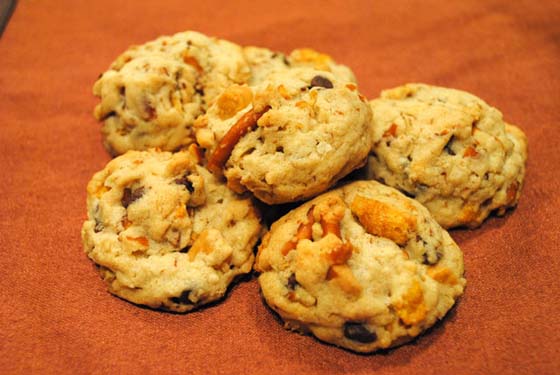 So, how's it taste?
They should be renamed "everything but the kitchen sink, oh wait add the kitchen sink" cookies. Everything is in here, which is what drew me in to baking them. Oats, pretzels, corn flakes, butterscotch, chocolate. A sweet and salty combination I was dying to try. They are pretty tasty and very, very crunchy. I think I'd like them better if they resulted in a chewy cookie, but they are more the consistency of a pecan sandie. Good, but not my favorite. I highly suggest you halve (or even third!) the recipe if you want to try them…unless you're baking for the army.
Other goodies from Cookie Baking Day 2010:
Almond Macaroons
Buttery Pecan Rounds
Striped Icebox Cookies
Mint Chocolate Chip Cookies
Chunky Peanut, Chocolate, and Cinnamon Cookies
Chewy Chocolate Gingerbread Cookies
Cream Cheese Spritz Cookies
Apricot Sour Cream Tea Cookies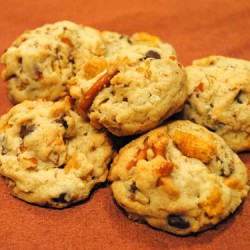 Crunchy Muncher Cookies
Ingredients:
1 cup granulated sugar
1 cup packed brown sugar
1 cup butter or margarine, softened
2/3 cup vegetable oil
1 tsp. vanilla
3 eggs
3 1/2 cups all-purpose flour
1 tsp. baking soda
1 tsp. cream of tartar
1/4 tsp. salt
2 2/3 cups small pretzel twists, coarsely crushed
1 cup old-fashioned or quick-cooking oats
1 cup Wheaties® cereal or Corn Flakes cereal, slightly crushed
1 cup miniature semisweet chocolate chips
1 cup butterscotch-flavored chips
Directions:
1. Heat oven to 350°F. In large bowl, beat sugars, butter, oil, vanilla and eggs with electric mixer on medium speed until light and fluffy, or mix with spoon. Stir in flour, baking soda, cream of tartar and salt. Stir in remaining ingredients.
2. On ungreased cookie sheet, drop dough by heaping teaspoonfuls about 2 inches apart.
3.Bake 9 to 11 minutes or until light brown. Cool 1 minute; remove from cookie sheet to wire rack.