I found myself with a ready-to-expire box of chocolate cake mix and decided it was time to bring a treat into work. I quickly dove into my large collection of food magazines and Chocolate Cherry Cola Cake caught my eye. Not only for it's cute cherry-on-top decoration, but because I am a Coke product snob. I don't buy sodas that often, so it's a treat when I do and this was a good excuse to guzzle down some Cherry Coke in the process.
So, how's it taste?
The cake was really moist and got rave reviews, but I have to say with all the cherry that's in the batter, I could barely taste it! Don't get me wrong, it was a fabulous cake, but nothing cherry about it. Between the Cherry Coke, cherry juice, and chopped cherries, you'd think there would be at least a hint of cherry. I think what really stands out is the icing. It's whipped vanilla mixed with marshmallow creme. The marshmallow creme took it to another level and made the icing really, really good. I usually find vanilla pretty boring, but this was a nice surprise. Although the cake was good, I probably would only make it again with regular Coke and leave out the cherries since they add nothing. Awesome find on the icing, though!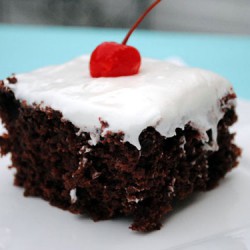 Chocolate Cherry Cola Cake
Ingredients:
1 jar (10 oz) maraschino cherries, drained, 1/4 cup liquid reserved
1 box Betty Crocker® SuperMoist® devil's food cake mix
1 cup cherry cola carbonated beverage
1/2 cup vegetable oil
3 eggs
1 container (12 oz) Betty Crocker® Whipped vanilla frosting
1 cup marshmallow creme
24 maraschino cherries with stems, well drained, if desired
Directions:
1. Heat oven to 350°F (325°F for dark or nonstick pan). Spray bottom only of 13x9-inch pan with baking spray with flour. Chop cherries; set aside.
2. In large bowl, beat cake mix, cola beverage, oil, eggs and 1/4 cup reserved cherry liquid with electric mixer on low speed 30 seconds. Beat on medium speed beat 2 minutes. Stir in chopped cherries. Pour into pan.
3. Bake 35 to 43 minutes or until toothpick inserted in center comes out clean. Cool completely, about 1 hour.
4. In small bowl, mix frosting and marshmallow creme until smooth. Frost cake. Top each piece with 2 cherries.